Rambo 5 To Film In Bulgaria?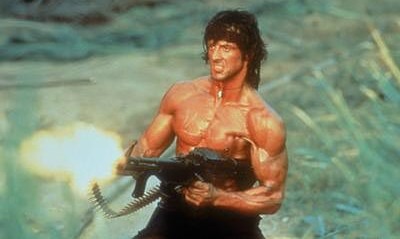 John Rambo, stayin' alive? Today on Screen Daily it was reported that Rambo 5 is scheduled to film in the Bulgarian capital of Sofia. Nu Boyana Studios, a substantive production house for Southeastern Europe, is building 10 new sound stages in the area, and apparently the next installment in the Sylvester Stallone war-vet franchise is booked first in line.
Since the January release of the fourth Rambo, the best hardcore action film in a while (10/10), Stallone has waffled considerably on whether a Rambo 5 will happen. He's hinted that he hopes to take the character into a "slightly different genre," leaving many fans to speculate sci-fi or a more comic bookish approach, only to deaden those rumors. Recently he's reverted back to the "new genre" line, amidst yet more rumors of making Cliffhanger 2: The Dam. Exhausted yet?
Harvey Weinstein was quick to announce his hunger for a follow-up to Rambo, but if the sequel will indeed film in Bulgaria, that would go against his and fans' desire to see Rambo return to America. I'd rather see a 5 than Sly's planned Death Wish remake or, especially, Cliffhanger 2, and I think the sentiment will catch on more once the flick hits DVD. More on this if/when it develops.
Discuss: What is the best action film you've seen recently that wasn't a Western or a video game/comic book/fantasy adaptation?
via MovieHole