The Hollywood Rip, Ride, Rockit Rollercoaster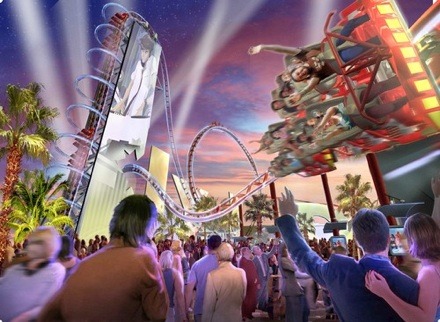 Universal Studios Orlando has announced that they will be building The Hollywood Rip, Ride, Rockit Rollercoaster, a new high-tech roller-coaster ride which will hold the title of the tallest coaster in Central Florida and one of the fastest in the state. Rockit will rise 167 feet into the air, then corkscrew downwards, twisting eight times, making a quick trip outside of the theme park and over the heads of people walking through the nearby Universal CityWalk shopping center.
This will be the first coaster at the park which doesn't have an actual movie theme. Aside from the ride's "Hollywood" title, the ride is not connected with any film properties, which is probably a bad idea.  According to the Orlando Sentinel, Rockit will feature "high-energy video displays in the waiting line; high-intensity, color-changing LED lighting and digital audio and video effects during the ride." Riders will have the ability to customize and personalize the ride, being able to select their own music and create a music video of the ride which can be uploaded to the internet.  The coaster will open in Spring 2009.