Michael Cera In Final Talks To Star In Scott Pilgrim's Little Life For Director Edgar Wright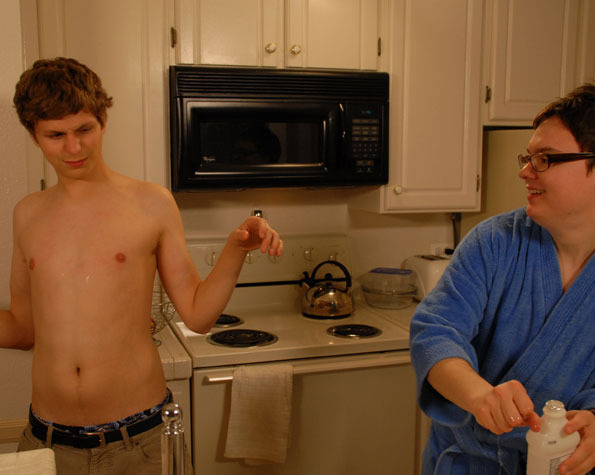 The photo above goes out to all the girls of the world who go nom nom nom for Michael Cera. This is a demographic that is growing exponentially. I even know a gal who left a guy to venture out in search of Juno's lithe and witty impregnator. So, given this bewildering trend, it's only fitting that Cera (Superbad) is in final negotiations to star in the titular role of Edgar Wright's Scott Pilgrim's Little Life, a promising adaptation of the hipster comic book about a Canadian bass player who must defeat his dream girl's seven evil exes in order to, you know, make out.
In Bryan Lee O'Malley's comic, the "League of Ramona's Evil Ex-Boyfriends" is possessed with varying evallll superpowers ranging from "vegan psychic powers" to "summoning demon hipster girls at will." And apparently one these exes is a vixen who is half-ninja. You know, from college. Also of note, Pilgrim, who is straight, has a gay roommate named Wallace and they share a bed. Hopefully Clark Duke (above) who played Cera's roommate in the quite amusing Clark and Michael (re: watch) gets a text to join. Writer/actor Michael Bacall, Wright and O'Malley adapted the script, and filming is slated to begin in the fall.
While lots of fanboys were hoping that Wright (Hot Fuzz, Shaun of the Dead) hopped onto Marvel's Ant Man next, the addition of Cera to this project makes me think it could be quite \m/. Moreover, Michael Cera starring in a flick that will get him a permanent seat in the Illustrious Skybox of 'Tang is good for all of us geeks, hipsters and Sexman alike. Indeed, I'd go so far as to say that Cera is deserving of the lead in that o-so-holy and manly of remakes: Fletch.
Discuss: Why is Michael Cera such a friggin' babe magnet? Does Scott Pilgrim's Little Life run the risk of being, erm, Juno: Hipster Slayer? Good move for Wright?