Judd Apatow Talks Sequels And Anchorman 2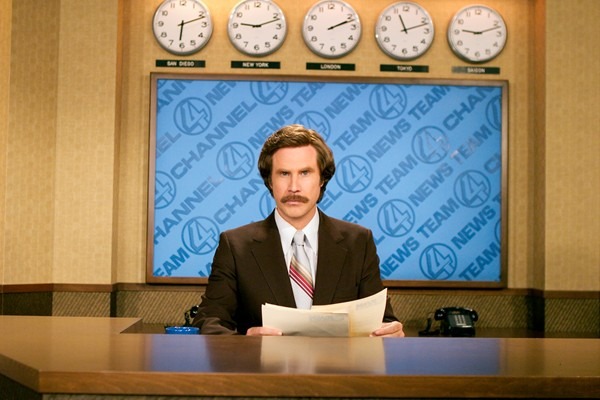 You have to give Judd Apatow credit for still not having a single sequel, especially a Knocked Up with Twins, on his vast production buffet. MTV recently spoke to him about the sequelitis that all big producers feel at one point or another, and Apatow admitted there is one film, Anchorman starring Will Ferrell as 'stachioed newscaster dumbass Ron Burgundy, that is due for a follow-up. Fortunately, or unfortunately, if this sounds like a good idea to ya, Apatow wants Ferrell to do it when he's wearing diapers for old-timer, as opposed to comic, relief.
"The movie that probably has a best shot at a sequel is Anchorman. Ron Burgundy would be hilarious at 70-years-old, being the anchor," Apatow said. "We all think it would be fun to see him up on his feet again doing what only he can do. That would be awesome â€" but it could only happen in 30 years."
Ferrell recently updated the Net on several unlikely sequels (Old School 2, Elf 2), but omitted Anchorman. I'm not saying Ferrell was implying that an Anchorman 2 will happen before three decades have passed; but I do think the image of a liver-spotted septuagenarian Burgundy taking multiple shots of liquor as he gets out of bed in the nerve-addling era of blogs, Twitter and YouPorn leaves an ocean of possibilities. How about you?
Discuss: Anchorman Deux? Would you like to see Apatow do a sequel to any of his flicks?