Tropic Thunder Movie Trailer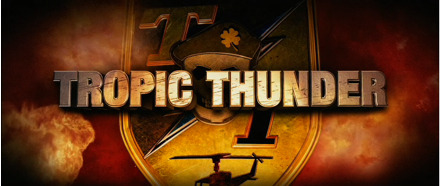 The full movie trailer for Tropic Thunder has finally dropped and I'm still not sold. When the photo of Robert Downey Jr. playing a black soldier in the movie about the making of a movie, I garnered a bit of hope. My good, but easily excited, friend Alex at FirstShowing saw some footage at ShoWest, and was trying to convince all of the inhabitants of our 2008 SXSW house that it showed a lot of promise.
But after seeing this trailer, I'm not quite sure I believe his assessment. I trust that Robert Downey Jr will deliver a good performance. I've never been dissatisfied with any of his performances to date, and he's the funniest thing in this new trailer. Ben Stiller and Jack Black have delivered a lot of crap in their time (and this comes from someone who LOVED both Black and Stiller in the beginning to middle of their careers). There isn't much to distinguish this Stiller comedy from his other recent efforts. I am however looking forward to Get Smart and Pineapple Express. Please share your thoughts in the comments below.
[flv:http://media2.slashfilm.com/slashfilm/trailers/tropicthunder1.flv 470 200]
"When a group of actors shooting a war movie includes Kirk Lazarus (Robert Downey Jr.), an over-the-top Australian-born method actor who has gone to extremes to get into character, novice thesp Sandusky (Jay Baruchel), gross-out comedy star Jeff Portnoy (Jack Black), Four Leaf Tayback (Nick Nolte), the real-life inspiration for the film, pampered action superstar Tugg Speedman (Ben Stiller) and rap star Alpa Chino (Brandon T. Jackson). DreamWorks Pictures Presents A Red Hour Production A Ben Stiller Film "Tropic Thunder" starring Ben Stiller, Jack Black, Robert Downey Jr., Brandon T. Jackson, Jay Baruchel, Danny McBride, Steve Coogan, Bill Hader and Nick Nolte. The film is directed by Ben Stiller from a screenplay by Ben Stiller & Justin Theroux and Etan Cohen based on a story by Ben Stiller & Justin Theroux. "
You can also watch the movie trailer in High Definition on Yahoo. Tropic Thunder is scheduled to hit theaters on August 15th 2008.
Discuss: What did you think of the Tropic Thunder movie trailer?