My Mom Always Hated You Sarah Marshall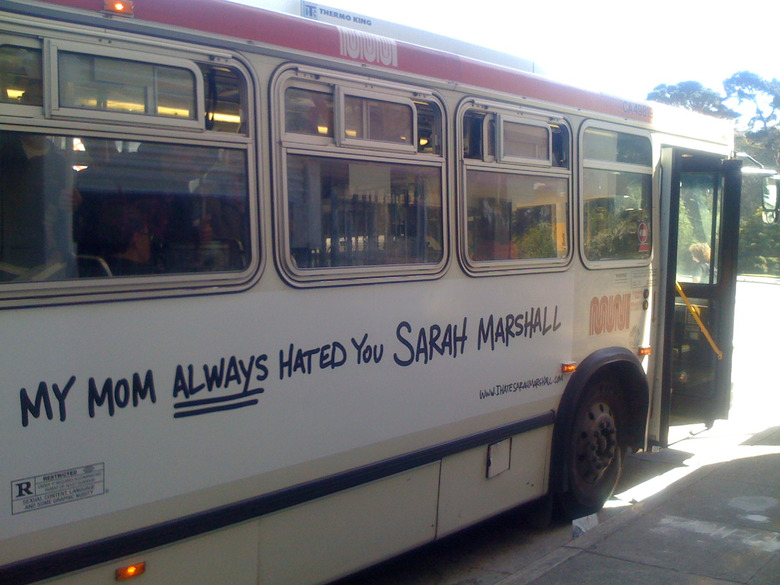 Universal is really trying to push the viral marketing campaign for Forgetting Sarah Marshall. I'm back home in San Francisco, and decided to grab a sandwich at AK Meats (the best sandwich place in the city) when I noticed the billboard on the side of the MUNI Bus did not read "Forgetting Sarah Marshall" but instead read "My Mom Always Hated You Sarah Marshall!" I thought to myself, "that's a pretty unique way to market a movie." Aside from the MPAA required R-Rating sticker, there is no indication that these advertisements are for a film release.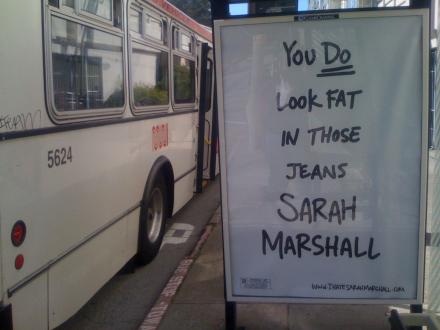 On the way back home I noticed another ad on one of the bus shelters, this one read: "You Do Look Fat in Those Jeans Sarah Marshall!" A website address on the bottom of the ads points those interested for more information to IHateSarahMarshall.com.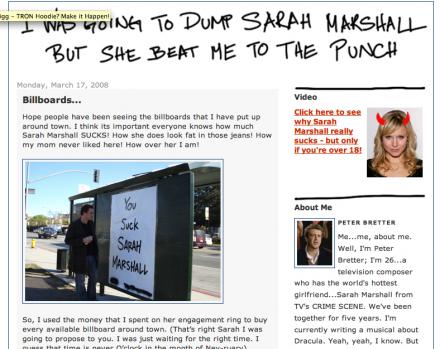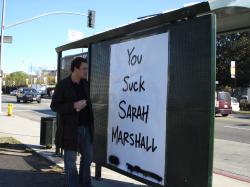 IHateSarahMarshall.com brings you to the blog of Peter Bretter, the fictional character Jason Segel plays in the feature film. Bretter explains in his latest blog entry that he used the money that he had spent on her engagement ring to buy every available billboard around town. ("That's right Sarah I was going to propose to you. I was just waiting for the right time. I guess that time is never O'clock in the month of Nev-ruary"). Bretter writes:
"Sarah, I really hope you are un-happy for the rest of your life â€" that you understand how totally over you I am. That said, you should call me if you want to talk, I can have these things taken down. I haven't called because you said you needed space, that's what you wanted. But when you say to someone you need time you should be more specific. How much time? Cause I am still waiting, but not for you. Just for things to get better..."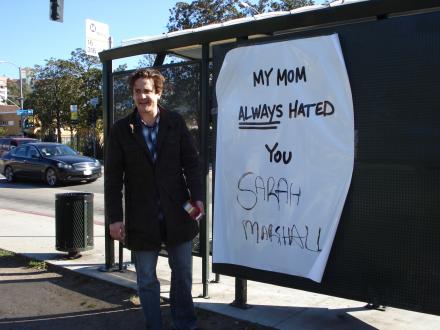 I told director Nicholas Stoller that the viral campaign was genius, and he promised more: more blogs and even more websites. Yesterday SarahMarshallFan.com got launched into the game, offering the Perez-like news that Sarah Marshall might have hooked up with Infant Sorrow front man Aldous Snow (played in the film by the brilliant Russell Brand).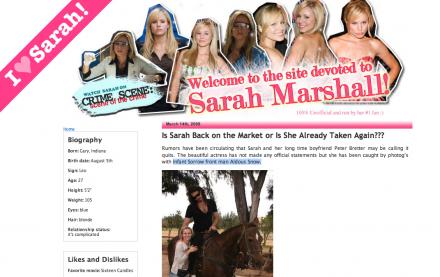 Bretter's blog entries are coming on a daily basis, and for the most part are very well written. My guess is that star/writer Jason Segel contributed to this campaign.  I got a chance to see the film at SXSW, and it is worthy of the Judd Apatow-brand name. Let's hope that this viral marketing gets people talking, and that people go see this film.