Samuel L. Jackson's Nick Fury Will Not Appear In Iron Man After All?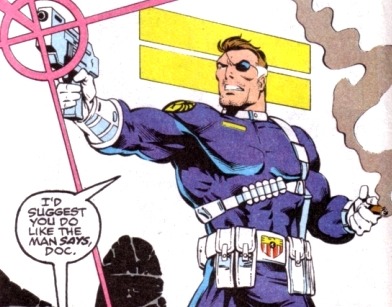 Buried in this report covering yesterday's Wizard World convention in L.A. is the news via a panel that Samuel L. Jackson may not have a cameo as Marvel character Nick Fury in Iron Man after all. Nearly a year ago AICN reported the casting news as a definite for the summer blockbuster, and since then everyone from Avi Arad to Jackson to director Jon Favreau has reluctantly nodded "yes." Even IMDB and Wikipedia have it listed as fact. Top that!
The panel, which consisted of Wizard's Ricky Purdin and Toyfare's Adam Tracy, maintained that Jackson is still Nick Fury and seemed to imply that the footage with Jackson and Robert Downey Jr. might appear elsewhere. CHUD just sprinkled their ellipses, and we'll throw out a giant ...but where?! as well. Moreover, the panel confirmed that a crossover between The Incredible Hulk and Iron Man is still happening as rumored.
So, would the Fury cameo pop up on the Iron Man DVD? That's no way to launch a character that has an individual action tent pole film scheduled in the next couple years. Might it be used in promotional materials? Promoting what? Coolness? Will it appear in The Incredible Hulk? On one hand that seems like too much "Uma, Oprah" crossover, but could turn out great. Cutting room floor? Gasp. Somewhere Jackson chews on a cigar and laughs at his laptop. More on this if it develops...
Discuss: Whaaa happen? Throw some guesses in the Easter basket. And who's the ideal director to realize a Nick Fury flick starring Jackson?