Cool Stuff: The Alamo Drafthouse - The Best Movie Theater EVER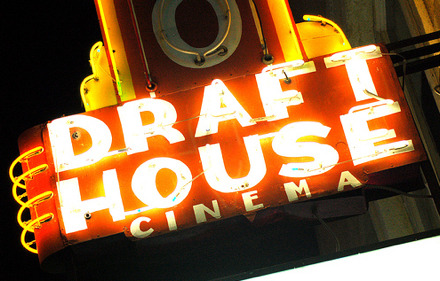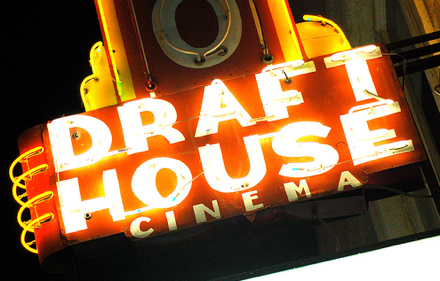 I know, I know... I'm late to this party! The one big takeaway from my time in Austin at the SXSW Film Festival (aside from the hot indie rock girls, the parties, the great movies, and great food) was that I fell in love with the Alamo Drafthouse Movie Theater.
I've been to movie theaters from coast to coast. I've been to The Coolidge Corner Theatre in Boston, the Castro in San Francisco, The Arclight in Los Angeles, and even the new Mark Cuban owned Landmark. The Alamo Drafthouse theater is by far the best movie theater I've ever been to. It's the type of movie theater that makes me wish I lived in Texas, and here's why...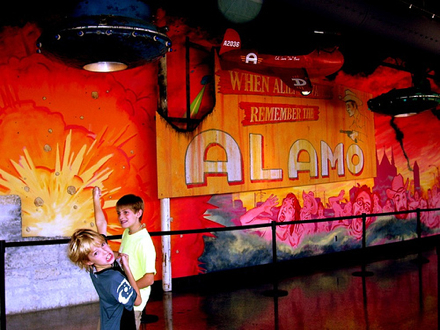 From the moment you enter the Alamo Lamar, you are transfered to another world, one where Aliens attacked Texas, and the community had to come together to defend the Alamo. Alien-like flying saucers provide light from above (as they should), and a vintage Donkey Kong arcade machine (which was installed for Steve Wiebe's King of Kong challenge) provides free plays.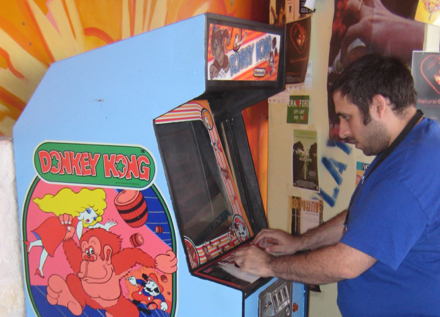 And to the left is...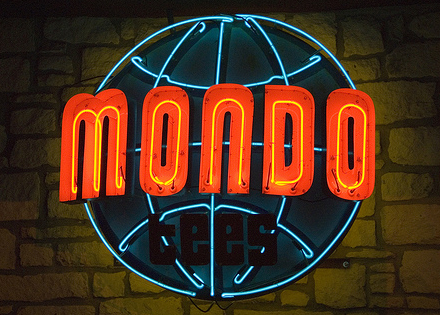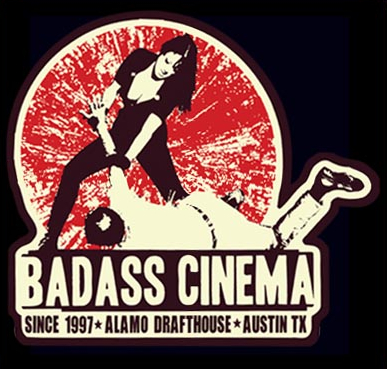 Mondo Tees (and Posters)
Mondo Tees sells new, vintage, and custom iron-on transfer shirts. They also offer a few premade t-shirt options. They offer a bunch of t-shirts I haven't seen anywhere else. For example, they offer a Sneepur Patrol shirt from Eli Roth's Hostel and a Death Proof skull and bones t-shirt. This is the t-shirt store where I found the Director Name Band logo stylized t-shirts I posted about last week, and the very cool posters that Tyler Stout created for The Alamo's special screenings (we posted about these last month).
I spent probably $150 at Mondo Tees while in Austin. You can see The Wizard poster I bought my best friend in the Special Events section below.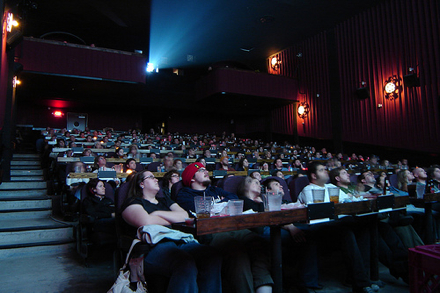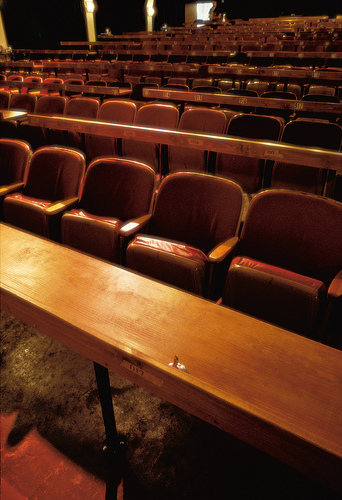 The Concept
The Alamo Drafthouse Cinema is Austin's only independently owned and operated movie theater. They serve a full menu of dinner, snacks and drinks to your seat while you watch the movie. The theater is laid out like a traditional movie theater, except every other row of seats has been replaced with a long narrow table for your food and drinks. You can order drinks and food before and during the movie without any distraction to the feature presentation.
Ordering Food
Each seat placement contains a couple menus inside the narrow bar-type table. During the pre-show entertainment, waiters come out and take your orders in the traditional way. Once the movie starts if you need anything at all, there is paper and pencils at the table. All you have to do is write down what you need on the paper, stand the paper up on the card holder attached to the table. This acts as a flag, and your waiter will only come by if he sees the card. They even provide minimal mood lighting underneath the tables, which can be used to see the menu in the dark without disturbing other moviegoers.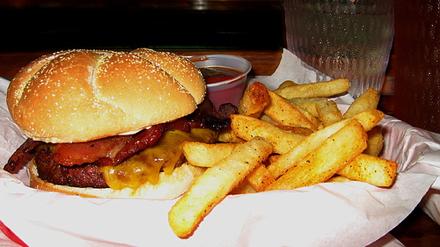 Pre Movie Entertainment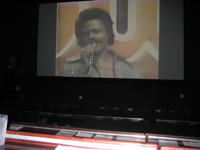 Seating usually begins 45 minutes prior to a screening. But you won't have to sit through any of that annoying in theater pre-movie advertising while you wait. The Alamo shows little short films, usually from the 1970's grindhouse-era until the feature begins. At SXSW I attended at least 12 screenings at the Alamo, and not once did I see the same thing twice on the screen. I was told by one of the employees that the Alamo randomly gets sent reels and footage on a weekly basis, and the management decides what goes into the preshow entertainment.
"No Talking" PSAs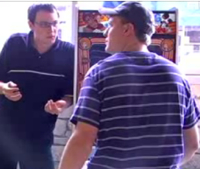 The Alamo has public service announcements before each screening telling the audience to silence their cell phones and to keep talking to a minimum. But these PSA spots are like nothing you've ever seen before. One of the first ones that I saw had legendary horror film director George Romero tell the audience that if they didn't keep quiet, that he'd turn them into the living dead. They then cut to clips of zombies getting torn apart and getting beat down. Another spot involved King of Kong star Steve Wiebe stare-of-death towards a chatting fan who made him die in Donkey Kong. Another hilarious video features StrongBad yelling at a talkative Homestar Runner. Most of the videos end with "Keep quiet or we'll take your ass out!" or something to that effect.
The Menu
In addition to the usual (Movie candies for $3.99 and popcorn for $3.59-$4.99), The Alamo offers a wide selection of Appetizers, Salads, Sandwiches, Tacos (shrimp, ribeye, chicken, and fish), Pizzas, Pastas, Entrees, Desserts and Beverages. Some of the item have fun movie-themed names like: Nacho Libre, the Once Upon a Time in Mexico Salad, Royale with Cheese Burger (pictured above), the Over the Top dog, Smokey and the Bacon BLT, and The Constant Gardener sandwich. Pizza options include The Godfather, Porky's Pepperoni, My Big Fat Greek Vegetation Pizza, the Raging Bull, and the Poultrygeist. You can see their whole menu at this link.
You would think that because this is primarily a movie theater, and not a restaurant, that the quality level of food would fall in line, but this is not the case. I've ordered almost every kind of option off the menu, and never once have been dissatisfied with what came delivered to my seat (except for the time I ordered the Organic Burger and didn't realize it came with a salad instead of fries... now you know). Actually, having this full service option available resulted in our ground at SXSW eating way more than we ever should have. It's hard to sit and watch a movie without ordering at least a beverage and appetizer.
Appetizers
Appetizers include Red Pepper Hummus, 20 Beer Chili, Falafel, Hot Wings, Potato Skins, Mozzarella Sticks, Fried Pickles, Fries, and more. I found the best value to be the Chicken Strip Basket. For $6.99 you get three fried chicken strips, and a basket of fries.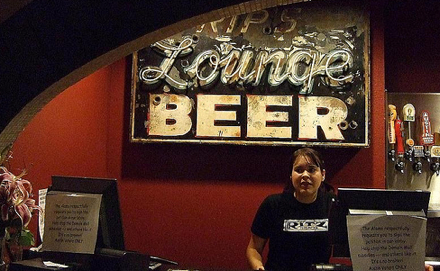 Beverages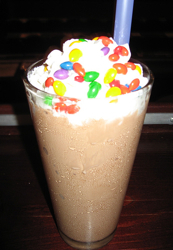 The Alamo offers 23 different beers on draft, available by the Pint (usually around $4) or in a Pitcher (usually around ($15-$17), and over 30 different bottled beers, available by bottle ($3-$7) or bucket ($15-$20), 15 types of Red wine, 11 types of white wine, and champagne.
They also offer Italian Soda, Spring Water, Iced Tea, Lemonade, Orange Juice, $5 milkshakes (or a Guinness milkshake for $7), coffee, and tea. Soda is available in 22oz ($2.79), 32oz ($3.59), or a pitcher for $6.99. The pitcher is by far the best deal, able to take care of two fat guys at the movies, or four normal moviegoers.
Here's a tip: As for Ice in the cups, and no Ice in the Pitcher. It took us a whole week to figure this one out. The Milkshakes are also amazing, and include mini-M&M's on top of the whipped cream (how cool is that?).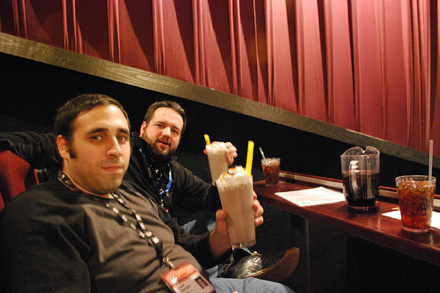 Cool Events
Okay, so the movie theater has good food and a cool vibe, but that's it right? Nope. Half of what makes The Alamo so cool is the programing. When The Alamo isn't playing host to the South By Southwest Film Festival, the Quentin Tarantino film festival, QT Fest, the Ain't It Cool News Bumbnumathon, or FantasticFest, they host some of the coolest movie events on the planet.
Food & Film Events: The Alamo's expert chefs create special gourmet menus made-to-order for classic films. Past highlights have been the Lawrence of Arabia 5 Course Feast, the Casablanca Morroccan Feast, The Lord of the Rings Trilogy with 9 meals, one at every Hobbit eating time, the Alamo Iron Chef Competition, our Aphrodesiac-laden Valentine's Feasts and more. You can check out some of the special film & food menus here.
Weird Wednesdays: "Since the fall of 2001, the Alamo Drafthouse Cinema has been hosting a series of free movie screenings of exploitation classics, especially curated by our own exploitation guru Lars Nilsen: from cheerleaders gone bad to blaxploitation to killer mutant animals to cheesy 80's slashers to women in prison. Many of these films are so obscure that little is known or has been written about them. Some of them are bad, most of them are enjoyable, and a rare few are mind-blowingly amazing."
Terror Thursdays: Thursday night free midnight 35mm screenings of Horror films spanning the 60s through the 80s, "and all are rarely (some NEVER) screened in theaters, and often not even available on video or DVD."
Sing-Alongs: Upcoming events include the Justin Timberlake sing-along, Michael Jackson: Thrill the World Part II, We Will Rock You: The Queen Sing-along.
Open Screen Night: The audience supplies short films no longer than 8 minutes long. The best shorts win prizes.
The Dionysium: A monthly forum for debate, lecture, declamation, drinking and music.
Master Pancake Theatre: John Erler, Joe Parsons and a rotating gang of Austin comedians, national celebrities and local personalities pair live comedy with "bad movies."
TV PARTY at the Alamo: Free commercial free screenings of popular television shows like LOST. Recently they provided a free simulcast the Austin Texas debate between Hillary Clinton and Barack Obama, as well as a free live simulcast of the Super Bowl.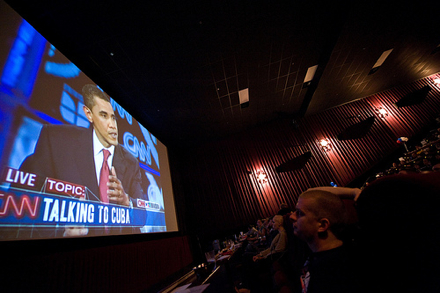 But some of the coolest events are the special screenings they randomly hold. For example, Most recently, Will Ferrell came to town for a special screening of Semi-Pro with the entire audience in Flint Tropics uniforms (see photo below).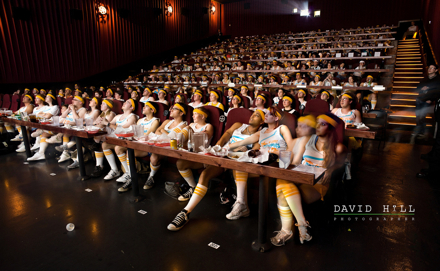 The Alamo held a special advance screening of Michael Bay's Transformers, featuring an appearance from the Robosaurus, a fire-breathing, 60 foot tall metal-clad car-eating machine.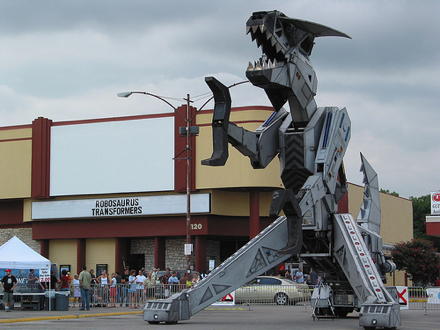 The premiere of Nacho Libre had a live lucha libre wrestling match with real Mexico City wrestlers, including 2 midget wrestlers.

For the opening of Dodgeball, they held a Dodgeball tournament in the parking lot.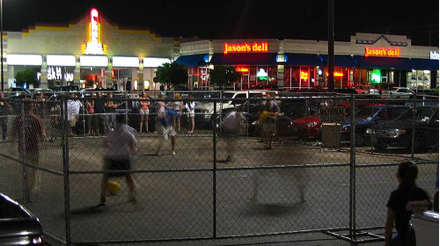 They tortured Eli Roth at a sneak preview of Hostel: Part II.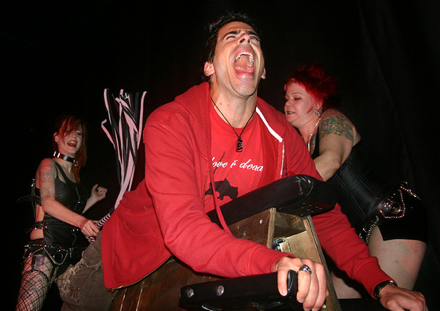 For Shoot 'Em Up, director Michael Davis was live in person, and screening attendees got to shoot at live human targets with paintball guns.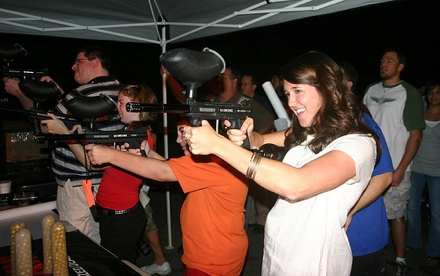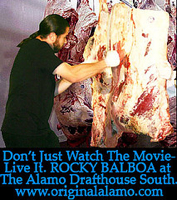 For the opening night of Rocky Balboa, The Alamo trucked in a couple of sides of beef, chained them up in the lobby and let everyone have a crack at them.
For the opening weekend of Rambo at Alamo Village, each midnight show was followed by a flamethrower demonstration, in which lucky audience members got the chance to take out suspected terrorist baby dolls with a "high-velocity baby-killing device". (see video here)
They rented a Mechanical Bull for an Urban Cowboy screening.
In February they presented The Wizard on the big screen at the Ritz with Todd Holland, Luke Edwards, and Fred Savage all their live in person. At the Q&A for the 10pm show, Princess Peach joined Luigi and Mario on our stage and presented the director and stars with a special Golden Powerglove. (Video Available on YouTube)
The Alamo has provided free orange tic tacs to moviegoers seeing Juno, and Meat Pies for the victims of Tim Burton's Sweeney Todd.
At SXSW I caught a midnight screening of Dance of the Dead, where they were giving out free beer. Then the big explosion goes off during the film's climax, The Alamo shot off confetti launchers, covering the audience in confetti. It was awesome.
For St. Patrick's Day, they had a special screening of Leprechaun where the audience gets a bowl of Lucky Charms and Green Beer!
Admission
So all these wonderful things must come at a greater cost, right? Nope. General Admission to the Alamo Drafthouse Lamar is $8.25, students, children (6-11) and seniors (60+) are $6.25 all day, all shows before 6PM are also $6.25. On Monday all shows all day on Monday are just $6.25. These prices are almost one third the ticket price that I pay to go to my no-frills AMC theater in San Francisco. Annoying kids are usually left at the door, as the Alamo only admits patrons 18 years or older or be accompanied by a parent. And Children under 6 are generally not admitted (YAY!). The Alamo even offers a "Baby Day" where Infants are welcome at shows before 2:05pm. According to their website, "For our baby day shows, we keep the lights up a bit, and the sound down a bit, so your little one never has to know they even went to the movies!" My only wish is that The Alamo would offer assigned seating, where you could preorder a specific seat (The Landmark and Arclight are doing it...). Although, the Alamo presents a different vibe. Most of the audience arrives more than 30 minutes early to order food and drinks and hang out before the film.The Rolling Roadshow
The Rolling Roadshow is a completely mobile Alamo Drafthouse Cinema. The Rolling Roadshow comes equipped with a cinema grade 35mm projector, a 20 foot x 40 foot inflatable movie screen and high-end outdoor audio. They took the show on the road, showing famous films in their original shooting locations. I'm still kicking myself for missing The Lost Boys in Santa Cruz last year (if anyone knows where I can get the Tyler Stout poster from this event, please email me):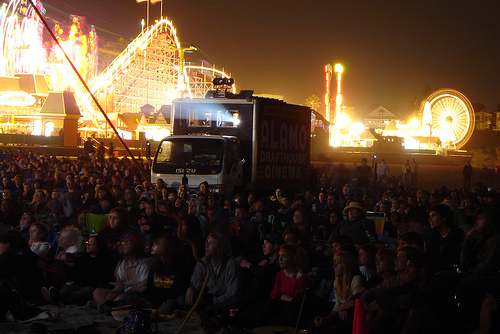 2007:
Fandango in San Elizario, TX
Friday in South Central Los Angeles, CA
Lost Boys in Santa Cruz, CA
Stand By Me in Brownsville, OR
North By Northwest at Mt. Rushmore, SD
Goldfinger at Fort Knox, KY
A Christmas Story in Cleveland, OH
John Waters Marathon in Baltimore, MD
Deliverance on the Chattooga River, GA
Burt-athon in Atlanta, GA
Smokey and the Bandit in Texarkana, AK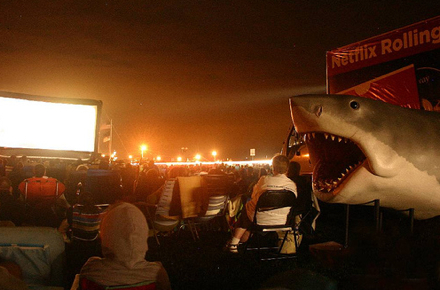 2006:
The Warriors @ Coney Island in New York, NY
Jaws @ State Beach in Martha's Vineyard, MA
Clerks @ Quick Stop in Leonardo, NJ
Ferris Bueller's Day Off @ Cedar Road Water Tower in Northbrook, IL
Field of Dreams @ The Field in Dyersville, IA
The Shining @ Stanley Hotel in Estes Park, CO
The Searchers @ Gouldings Lodge in Monument Valley, AZ
Raising Arizona @ Lost Dutchman State Park in Tucson, AZ
Poseidon Adventure @ H.M.S. Queen Mary in Long Beach, CA
Escape From Alcatraz @ Alcatraz Island in San Francisco, CA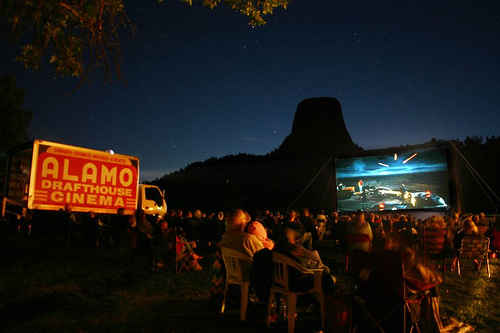 2005:
Close Encounters at Devil's Tower, WY
Last Picture Show in Archer City, TX
It Came From Outer Space in Roswell, NM
Once Upon a Time in the West in Monument Valley, UT
Planet of the Apes at Lake Powell, UT
Repo Man Road Rally in Los Angeles, CA
North By Northwest in Bakersfield, CA
Bullet Road Rally in San Francisco, CA
The Goonies in Astoria, OR
Cat Ballou in Canon City, Colorado
Hud in Claude, TX
Cool Stuff is a daily feature of slashfilm.com. Know of any geekarific creations or cool products which should be featured on Cool Stuff? E-Mail us at orfilms@gmail.com.
photo credits: Alamo, crookback, freddieavalos, nariposa, theafterglow, samystclair, jennybaxter.