Possible Harold & Kumar Spinoff Film With Neil Patrick Harris?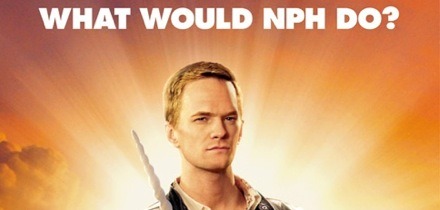 It's Saturday, it's raining, college basketball is slowing down, and Doomsday belly-flopped: how about a Neil Patrick Harris post? Why not, right? Peter didn't exactly chug a pitcher of beer in totes awe after watching Harold & Kumar Escape From Guantanamo Bay at SXSW, but I think it's safe to say we'd both like to see this stoner comedy franchise continue. AICN reports that H&K2 directors Jon Hurwitz and Hayden Schlossberg are toying around with a spin-off to the "it's not a bomb, it's a bong!" sequel (hitting April 25th) focusing on the former titular star of Doogie Howser, M.D.
And NPH himself, he of the unicorn mastery (see above), has chimed in about the possibilities. While he's hesistant, he's also seemingly aware and open to the idea of a spin-off...
Neil Patrick Harris: Part of me thinks that would be really hilarious just to make up this fictitious back story of my family and that makes me think of Steve Martin in THE JERK, just going really outlandish and then part of me thinks that is just truly jumping the shark, so I don't know. When you are spinning off a character that's based on a real person, but not real… I don't know, it might be too much, but if anyone can write it…
Quint [AICN]: It worked for John Malkovich
Neil Patrick Harris: That's true. If anyone could write it, they can, so who knows? I think that would honestly entirely depend upon the success of the next couple of months. 
With NPH already so integral to the marketing of the sequel and doing more press this go'round, such a spin-off is not unlikely (...actually
. The only question is, would such a spin-off be like playing limbo with the pop culture niche factor? How many people would get the joke/appeal outside of College Humor readers and loyal viewers of How I Met Your Mother?
Discuss: Could an NPH spin-off do well at the box office? Is NPH the new WTF or POS (Parent Over Shoulder)? Do you expect H&K2 to be a big hit or just another college sleeper?