SXSW Movie Review: The King Of Texas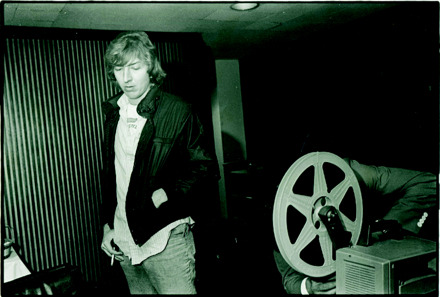 A documentary directed by Rene Pinnell and Claire Huie about Pinnell's uncle, Texas filmmaker Eagle Pennell (Last Night at the Alamo, The Whole Shootin' Match), The King of Texas, is both an affectionate tribute to Pennell and his brand of regional-based, DIY filmmaking and a cautionary tale about substance and alcohol abuse and the premature end of a once promising filmmaking career. Over less than three decades, Pennell made four feature films, one short, and contributed to a documentary (Good Life). Pennel was forced to work with meager resources and no distribution outside of local film festivals.
Even with those limitations, Pennell managed to make a name for himself as a serious filmmaker with critics, film festival audiences, and Robert Redford, who apparently credited Pennell's early films, The Whole Shootin' Match and Last Night at the Alamo, with inspiring him to create the Sundance Institute, a center where writers and directors could develop and make films outside the Hollywood production system and with it, the Sundance Film Festival (formerly the U.S. Film Festival) in Park City, Utah. For Pennell, however, his career as a filmmaker was over before distribution channels opened up for truly independent filmmakers.
Pinnell and Huie mix archival footage of Pennell and his films with talking head interviews with Pennell's former collaborators, including Lou Perryman, Sonny Carl Davis, and Doris Hargrave, actors who appeared in his early films, Lin Sutherland, the screenwriter on his first film, The Whole Shootin' Match, Kim Henkel, his writer on Last Night at the Alamo, Brian Huberman, his cinematographer on Last Night at the Alamo, Pinnell's family, including Pennell's brother and Rene Pinnell's father, Chuck, and Rene Pinnell's parents. What starts off as near-hagiography listing Pennell's early accomplishments (e.g., he was a star basketball player in high school), his drive and energy, and the desire to become a filmmaker, regardless of the limited opportunities available to him in Texas.
For The Whole Shootin' Match, Pennell and his collaborators rehearsed during the week and filmed on weekends. After editing and scoring (provided by Pennell's younger brother, Chuck), The Whole Shootin' Match premiered in Dallas at the U.S.A. Film Festival. Accolades followed, as did festival audience approval. With that minor success in hand, Pennell moved on to his next project, Last Night at the Alamo. Pennell, however, developed alcohol and substance abuse problems, in the process alienating friends, family and collaborators.
Sadly, despite directing two more films, Pennell's alcohol and substance problems overwhelmed him. In and out of rehab throughout the next decade, Pennell eventually lost everything, including his home. He died just days short of his fiftieth birthday, all but forgotten except by his family, friends, collaborators, and audiences who once saw his films at regional festivals. Thanks to his nephew and brother, however, his films have been rescued from obscurity. A new print of The Whole Shootin' Match premiered at last year's SXSW festival. Regardless of Pennell's status as a filmmaker, The King of Texas provides rare insight into a specific cultural and artistic moment in Texas' history. As an interview subject comments somewhat ruefully in reference to Pennell's contribution to the 1970s and 1980s artistic scene, "Austin was a cultural oasis in the desert that is Texas."
/Film Rating: 7 out of 10