SXSW Movie Review: Bananaz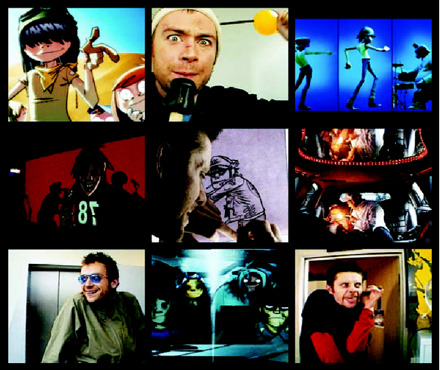 Bananaz, Ceri Levy's behind-the-scenes/tour documentary centered on Gorillaz, the virtual band created by Damon Albarn, lead singer and songwriter for the Brit-pop band, Blur, and Jamie Hewlett, the co-creator of Tank Girl, is, alas, the kind of insular, for-fans-only documentary that means a limited theatrical run, if any, and a somewhat appreciative audience on DVD for completists of Gorillaz-centered merchandise or material. Even Gorillaz fans, though, might find themselves bored or otherwise disengaged from Levy's loose, unstructured, and ultimately self-indulgent approach to the Gorillaz phenomenon.Bananaz follows Albarn and Hewlett as they formulate the concept behind the Gorillaz and the four amine-influenced band members, 2D, Murdoc, Noodle and Russel, that exist only in paper and ink drawings or as ones and zeroes in a computer program. Critical of what they saw as manufactured pop bands (e.g., boy bands), Albarn and Hewlett decided to go them one better and take the concept to the extreme, a virtual band co-created by Albarn, who'd provide the music (along with numerous collaborators), and Hewlett, who'd design the characters and direct or supervise the music videos. The band's first, self-titled album, released in 2001, sold more than seven million copies worldwide. The second album, Demon Days, was released in 2005 to critical acclaim and received five Grammy Award nominations and won for "Best Pop Collaboration with Vocals" category.
As a behind-the-scenes documentary, Bananaz, follows Albarn and Hewlett as they prepare for studio recordings and music videos, respectively, go on interviews to promote their first and second albums, hang around their respective living or studio spaces, goof off or recover from a bender, do sound checks before they perform, and finally, perform in front of live audiences (actually, Albarn and his band mates perform behind a screen that separates them from the audience, while Gorillaz videos and related art is projected on the screen). Unfortunately, most of these scenes are nowhere near as fascinating or compelling as Levy thinks they are. While we see several sides of Albarn, some negative, and we see him get stage fright before a performance (including an unnecessarily graphic shot of Albarn throwing up), we also hear, or rather not hear, Albarn, Hewlett, band mates, and other supporting players ramble or mumble as they play up to the camera.
Unsurprisingly, Bananaz is at its best when it focuses on the studio recordings and performances in front of live crowds. Don't expect to hear (and see) complete tracks, though. Expect a minute or a minute and a half tops before Levy cuts away to a post-concert scene (usually one involving smiles all around). Bananaz could have been better served by spending more time on Albarn's philosophy for collaborating on music for Gorillaz. While he's the driving force behind the band, he's also collaborated with well known, well-respected artists, including members of De La Soul, Pharcyde, the late, great Ibrahim Ferrer (of Buena Vista Social Club fame), and actor Dennis Hopper in spoken-word mode.
/Film Rating: 6.5 out of 10