Cool Stuff: In Case Of Zombies Survival Kit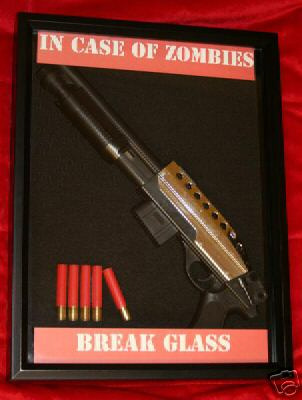 What do you do if the whole world starts turning into Zombies? Hope to god that you invested in the "In Case of Zombies Break Glass" Mounted Survival Kit. Found on eBay, via Gizmodo, this novelty survival kit is currently selling for around $200 with 9 more days on the auction. The auction listing reads:
"If you're like any normal person, you probably live in constant paranoia of the impending "Z" war: the zombie uprising. You wonder how you'll survive... how you'll make it out of your house so you can escape and live in the mountains. Although you can't plan for every possible scenario, you can take a hint from the Zombie Survival Guide (not included) and prepare some defenses. A shotgun with 5 shells will be your ever-constant companion, hanging on the wall in your room or at your office. Keep it close at hand, and when the uprising occurs, you'll be ready. Simply break the glass, take down the gun, load it up and rock out. And be sure to aim for the head. Gun and shotgun shells come in an attractive black wooden display case with glass covering, suitable for hanging for display."
I hope that these guys mass produce this survival kit, because for a cheaper price, I'd buy one.
Cool Stuff is a daily feature of slashfilm.com. Know of any geekarific creations or cool products which should be featured on Cool Stuff? E-Mail us at orfilms@gmail.com.