ShoWest: Kung Fu Panda And The Love Guru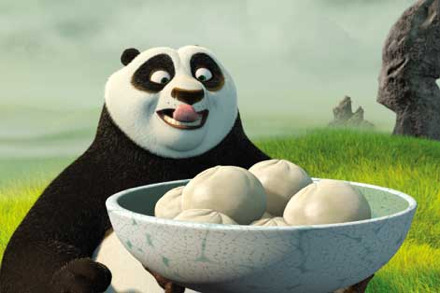 Hey guys, I'm still in Austin Texas at South By South West, but /Film Reader Dustin R is in Las Vegas at ShoWest, and sent us this report from the DreamWorks/Paramount event:
——-
Hey you guys,
I was able to attend the ShoWest event last night at the Paris Hotel in Las Vegas, NV to see a pre-release version of Kung Fu Panda. You probably heard about it, and it wasn't that big enough to post on the site. But this mini-event was pretty amazing, if gave the public probably a few hundred people along with industry reps to see roughly 95% of Kung Fu Panda in it's completed form. The film looks brilliant; they really pushed it all the way this time, although some things seem to need a little tweaking here and there. The voice acting is great, Jack Black does a great job as well as Dustin Hoffman. But the secondary characters voiced by Angelina Jolie, Seth Rogen, Jackie Chan, Lucy Liu, and David Cross don't have much dialogue in the film, which makes their characters feel empty and lifeless in the voice acting and animation part.
This movie is really great though, they nailed the Kung Fu part by fusing a dash of japanese animation for the intro, and adding brilliant kung fu moves throughout the movie which is amazing to see when everything is so fluent and animated.
Another great thing about this event is that before they showed Kung Fu Panda, Jeffrey Katzenberg showed up to give a brief introduction about the small past of their animation movies. With that said, he brought up the movie Shrek, and without further announcement Mr. Mike Myers came out on stage to talk about his movie the Love Guru which stars Mike Myers, Jessica Alba and Justin Timberlake. And as soon as Mike Myers brought up Jessica's name, their she came out on stage, looking pregnant and gorgeous as always.
He showed a few clips of his movie which I have to say was sort of disappointing in my mind. All the clips had humor in them, but the jokes didn't seem to hold up, which is rare for a Mike Myers film. It seemed like a cheap comedy film. But we still have several months before its released so who knows what post production might do to the film. Although it is funny to see Justin Timberlake as a spanish person.
If you guys want anymore 411 on the special event hit me up.
Thanks,
Dustin R