SXSW Blog Day 2-4: Wizards, Teens, The Promotion And Kristen Bell

It has been a few days since the last time I found a few minutes to blog about my SXSW adventures. And it's not for a lack of stories or interesting tales. If Sundance was the internet, than SXSW would be Web 2.0. At Sundance everyone is working (well, actually, that isn't true because the celebs and Hollywood folk party, but most of the journalists are working). At SXSW, the social atmosphere extends throughout the city of Austin, and probably even beyond the city limits. So instead of listing item by item of what has happened since the last update, I have decided instead to talk about the interesting things.
On Saturday, we caught the Harry Potter fandom documentary We Are Wizards, which was somewhat of an enjoyable mess. The documentary consisted of two parts, one which focused on the emerging music genre of Wizard Rock, and another on the legal battle between the fans and Warner Bros. I've had a bunch of experience dealing with movie studio legal departments, yet found that whole portion of the documentary to be rather boring. If they were to recut the feature to focus on the Wizard Rock bands, then the film would be much better for it.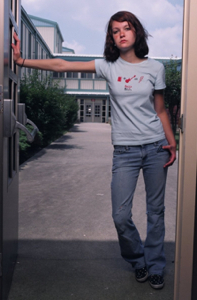 We then went to the Alamo Lamar to see American Teen again. I had first caught the film at Sundance after it had been recommended to me by Jason Reitman. Teen was not only my favorite movie of Sundance, but also my favorite movie of the year so far. Finally a documentary with real mainstream appeal. American Teen played even better than I remembered it, and the audience actually cheered in parts. Earlier in the day I found out from my Paramount Vantage rep that Hannah was not available for an interview I had requested earlier in the week. Neil at Film School Rejects also was denied. I wonder what happened, as she was clearly in town. Alex from FirstShowing and myself met up with Hannah outside the screening after it had let out. We learned that she is now going to Film School in New York City. I asked if she was working on a screenplay, and she told me that she just started screenwriting classes, and she'll eventually get to that. I wish her good luck.
We then headed to Alamo Ritz for Explicit Ills, which was god awful. First time director Mark Webber tried to use every gimmicky film school trick over the course of the agonizing effort. I don't know how many people from the badge line got in, but it seemed to me to be less than 50 people total. The cast and crew packed the theater with their respective entourage, leaving little room for no one else. Today (Tuesday) I learned that the film won the audience award, which is just so mind blowing, because I have yet to meet someone who loved the film. In fact, I didn't even get a ballot while walking into the theater, although I noticed that most of the entourage did. Actually, Rosario Dawson actually came out onto the stairs and told those waiting in line inside the theater how to vote for the film. She explained that you rip the 5 on the ballot cards, and demonstrated with her card.
We then headed over to the Explicit Ills party, which was really lame. We saw Morgan Spurlock upstairs for a second, and decided to leave and find something better. We met up with one of our favorite publicists and the guys who made Blip Festival: Reformat The Planet, and hung out at the Iron Cactus until 1:59am magically turned into 3:00am. The guys who made the film are really cool, and I hope their film gets bought.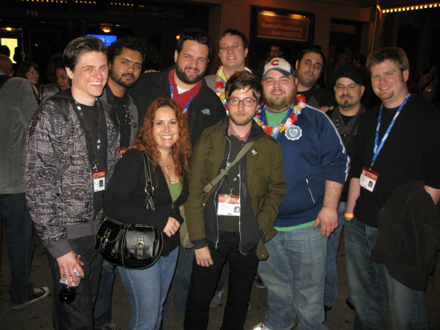 On Sunday we woke up late and picked up the incomparable Mel Valentin from the airport, grabbed a pita sandwich, and stood at the end of a very very long line at The Paramount with Doug from The Movie Blog.
I must admit, I only saw The Promotion because of John C Reilly. I love that guy in nearly everything he does. That aside, I was expecting very little, but was blown away. What a great little comedy this is. I hope that The Weinsteins actually put this in a bunch of theaters, although I'm worried that they have no idea how to promote it. The fact that the film is being distributed under their Dimension Films brand is also very odd and concerning. The Paramount Theater is like San Francisco's Castro Theater but smaller. Even the seats feel like miniature versions. Brian from Rejects and Ken from FirstShowing went over the Seann William Scott, who was taking a few photos with some hot women after the screening. They mentioned they were from some movie websites and would like to get a few photos. Seann said that he doesn't like photos of himself and that he wasn't photogenic enough. Yup, total blowoff.
A combination of Alex and Google Maps got us lost on the way to the Gawker Party. Apparently you need to pay close attention to the East and West street signs. We finally made it to the bar hosting the shindig, but found the place to be too small and loud for our tastes. To be fair, I later learned that there was a huge patio in the back, which was the place to be.
We then went to the Alamo Ritz where I posted the new Indiana Jones poster while waiting in line for a special midnight screening of Dance of the Dead. They were giving away free beer, which made for a rowdy and fun crowd. The Alamo does all sorts of cool promotions like this. Later this month they are showing The Leprechaun, and you get a bowl of Lucky Charms and Green Beer with the price of admission. Very cool. The Alamo makes me wish I lived in Austin. Dance of the Dead was incredibly fun. It felt like a self aware early 80's zombie film. Lots of good gore as well. During the big climax, a big explosion went off on screen, and the Alamo set off a confetti bomb which covered the entire audience. How cool is this theater?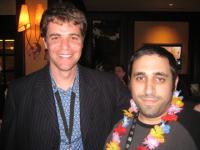 On Monday we grabbed some sandwiches from some deli place on 6th street, and then headed over the the Forgetting Sarah Marshall premiere party, where they had free food and drinks. Director Nicholas Stoller, and stars Jason Seagal, Kristen Bell, Russell Brand were in attendance. I got to chat with Stoller for a good ten minutes about Undeclared and Judd Apatow. He seemed genuinely excited to be there, and to have a film that was coming out.
Brian from Rejects and myself approached Kristen Bell for photos. I usually avoid the photo thing, but I'm a huge fan of Bell's former television show Veronica Mars, plus she's just hot. She gave us the blow off, explaining that she was hungry and was trying to get to the food for the last ten minutes. She was very nice, but I discounted it as a blow off. Five minutes later guess who taps my shoulder. Kristen fucking Bell, asking us if we still wanted to get photos. We talked about Fanboys (as expected, she still has no idea what's going on) and a couple other things. Bell was wearing three inch heels and was still short. You have no idea how small this girl is until you see her in person close up.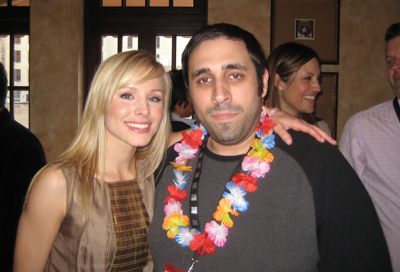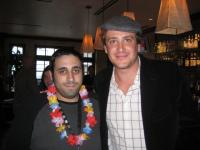 Jason Seagal was also pretty cool, and down to earth. While leaving the party we ran into Russell Brand downstairs in the lobby and I approached him and told him how hilarious I thought he was at WonderCon. He stopped whatever he was doing and gave me a genuine "thank you". We got photos with Brand, and walked over with him to The Paramount theater, inadvertently walking the press line behind him. You might see me and Neil from Rejects in the paparazzi photos from the event.
Forgetting Sarah Marshall was also much better than expected. I was actually expecting a flop, but the film had a lot of laughs, and had a very heartfelt underlying core. It's not the best Apatow film, but it's a lot of fun, much much much better than Harold and Kumar 2.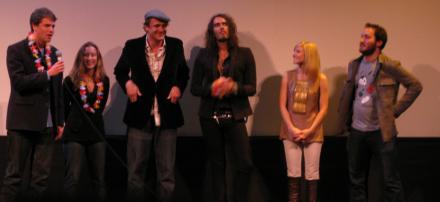 We then spent an hour trying to find something good to eat, but resorted to eating from the late night menu at Champions Sports Bar. We then met up with Muhammad Saleem, a friend of ours from the social web, of whom we had never met in person. We went to the IHeartCavemen Gieco party, which was in a cool bar with three levels. We sat outside under the heat lamps, which provided warmth in the cool night air – a weird mixture I'm not use to. We left the party with a big red gift boxes which includes candles, a candle holder, and some other junk.
I'll be back tomorrow or Thursday with another update. We send mini updates to Twitter throughout the day, so please follow us and tell your friends. Thanks for reading!