Creators Of Ask A Ninja To Remake Attack Of The Killer Tomatoes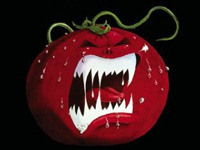 Why not? Kent Nichols and Douglas Sarine, the minds behind the hit comedy site Ask a Ninja, are set to make their feature film debut with a remake of the lucrative 1978 B-movie spoof Attack of the Killer Tomatoes. They are currently working on the script. Nichols will direct. Both appear to be very fond of the cult classic and arguable pop culture phenomenon.
" 'Attack of the Killer Tomatoes!' is the masterwork of a generation," Nichols said. "We can only aspire to recapture that magic."
I can't tell if this sentence is supposed to be funny, but The Hollywood Reporter sez that the remake's plot is "expected to revolve around killer tomatoes." I mean, really? ATOFKT spawned a sequel, Return of the Killer Tomatoes, which remains infamous for starring George Clooney (Possible cameo? Let's hope.), a Nintendo game, a Game Boy game, a '90s animated TV show that went great with SpaghettiOs, and tons of other tie-ins of questionable taste.
For what it is, Ask a Ninja is rather smart (Sarine and Nichols reportedly make $100K a month off the site and merch) and I'm curious to see how far these guys take their comedic voice. The deal is great news for original content generators on the Web and no doubt a promising glimmer in the eye of Slashfilm: The Movie. Seeing the remake's absurd title stretched across a marquee next to, let's say, The Mummy 5 should draw a smile from some and a frown from annoyed adults forced to hear that friggin' theme song once again. Click here for a clip from the original film.
Discuss: Would you rather see a Tomatoes remake or Attack of the Killer
s?