Sequel To Aliens Vs. Predator Requiem Going Ahead?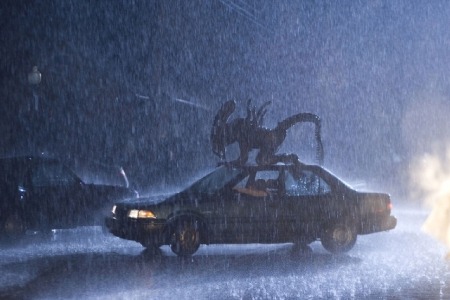 Shock Till You Drop received a tip over the weekend from a source at 20th Century Fox who claimed that a sequel to last December's generally hated Aliens vs. Predator – Requiem is a "certainty." A second sequel in the battle royal sci-fi horror franchise would be rather surprising, as AvP-R didn't reach $50 million domestically, though it made about $130 million worldwide. However one might expect sales of the DVD, set for April 15th, to be rather healthy. As aforementioned, after much boasting by visual effects wizard brothers Colin Strause and Greg Strause, their film still sucked about as much as the first AVP flick from Paul W.S. Anderson. The source didn't clarify whether the Brothers Strause would return.
The question here is whether this potentially landmark franchise can ever retain the promise that existed in so many fanboys' heads before it became a cinematic reality. Twentieth Century Fox has to realize at this point that the key factor to making an AVP film that can reach $100 million domestic (and a third film still could) is the director. At this point they need to go with a well known action director rather than a young hot shot with visual acumen.
While some of the thrill is gone after two outings, especially amongst the non-geek mainstream, an injection of class and a detachment from the prior two films could still make considerable bank. I doubt they could get Ridley Scott at this point, but that's the type of talent they should aim for. And this isn't about AVP so much as rebooting the Aliens and Predator franchises, neither of which are particularly strong go-to's right now. As seen from the boffo grosses and insatiable interest in I Am Legend, moviegoers want their dark sci-fi, so do it right or don't bother.
Discuss: Can you ever get excited for an AVP film again after the first two?