Will Golden Compass Sequels The Subtle Knife And The Amber Spyglass Be Greenlit?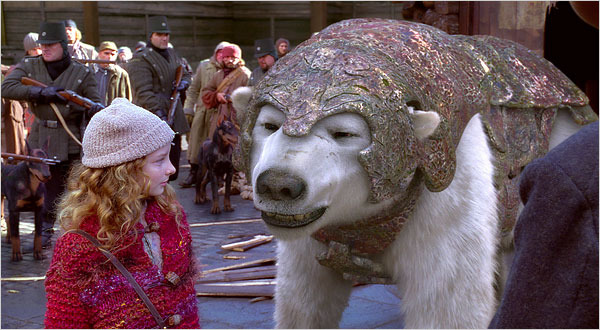 After The Golden Compass failed to crack $70 million at the domestic box office, many industry types and American moviegoers pfffft'd the notion that the other films in Philip Pullman's His Dark Materials trilogy would ever be made. However, as Variety notes, the first film, which starred Nicole Kidman and Daniel Craig, and had a budget of nearly $200 million, is line to be the first film to ever crack $300 million internationally without reaching $100 million domestic. This is an astonishing disconnect, really. Producer Deborah Forte is not only hopeful that The Subtle Knife and The Amber Spyglass will be made, she is adamant...
"This was a success as a family movie in most countries, it's a very strong family franchise, it won an Academy Award [for Visual Effects]. We have to make the second and the third movie. ..."I will make 'The Subtle Knife' and 'The Amber Spyglass,'" she vows. "I believe there are enough people who see what a viable and successful franchise we have."
The Golden Compass's failure domestically and New Line's decision pre-release to sell off the international rights are seen as primary factors in the studio recently being downsized and absorbed by Warner Bros. Forte doesn't offer an outright opinion on the gross gap, but hints that she was displeased with the marketing in the U.S. She says that per discussions with New Line, Compass's DVD, to be released stateside on April 28th, "must be marketed as a family film." Moreover, a script for The Subtle Knife has already been written by Hossein Amini (Killshot, The Four Feathers). If Warner Bros. passes on the sequels, it's even suggested that Forte might seek an independent route.
While I think the marketing in America focused too much on Kidman and Craig, two stars with little appeal to tweens, The Golden Compass faced a tall order of bad, nearly sensational, press domestically, with many outlets playing up the books atheistic messages. Its release during the holidays was also rather careless. The film came to be seen by the mainstream as an anti-Christian Chronicles of Narnia and thus unsuitable for family viewings. As Variety points out the film did well in Italy were the pope publicly called out the film as "the most anti-Christmas movie possible," but Italy doesn't have virulent talk radio and Fox News talking heads.
Discuss: Why did The Golden Compass perform so well worldwide? Are you interested in seeing the sequels?