SXSW Blog: Day 1 - Kumar, Online Gamers, And The Opening Night Party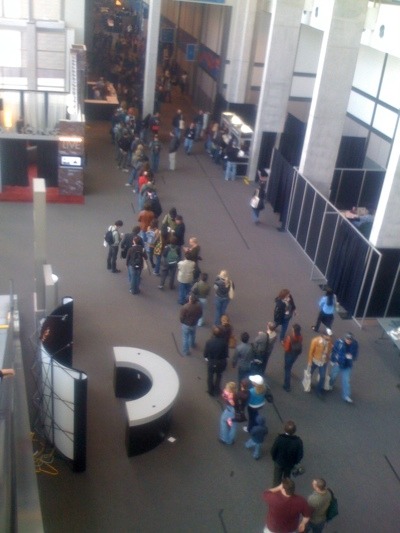 Instead of leaving bright and early to get our SXSW press passes, I spent a couple hours this morning on the computer with my housemates in the kitchen, which has quickly become our central hang-out/office. I worked on stories for the site while Alex from FirstShowing, Neil and Brian from FilmSchoolRejects and Kevin Kelly from io9 worked on their respective websites.
A surprise e-mail from King of Kong star Billy Mitchell made for great conversation (and later a news posting). No one could believe the extent of Billy Mitchell's douche-ness, and we spent a good half hour researching Jonathan Brandis for no reason. Did you know that Jonathan Brandis auditioned for the role of Anakin Skywalker in George Lucas' Star Wars Episode II: Attack of the Clones and that he went to the high school prom with Brittany Murphy. Shockingly the Brandis/Chuck Jones Karate Kid rip-off Sidekicks is getting a 3.8 on imdb?!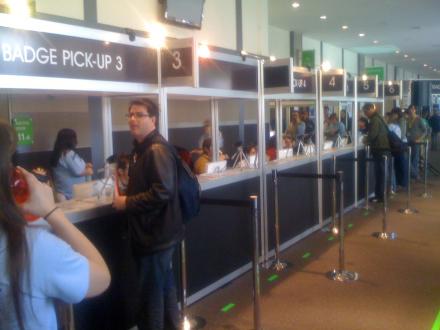 We headed to the convention center and braved the lines to get our press passes, and swag bags, which turned out to be full of mostly advertisements (boo). We met up with Kevin Kelly's friend Jessica from JustinTv's AllGames, and walked down 6th street to look for food. We found a cool bar/restaurant called The Jackalope, which sells Texan sandwiches, beer, deep fried snickers and had cheesy vintage paintings of naked women on the walls (I kid you not). We blogged and ate food, but not at the same time.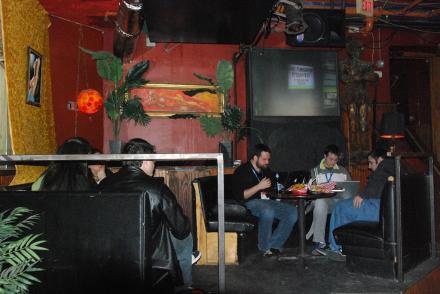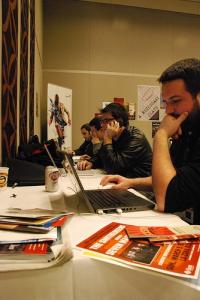 Hanging out at the press room, we attempted to get some work done, which just wasn't happening for some. We found out about a last minute Harold and Kumar 5:30pm press screening at the Alamo Drafthouse. Kevin Kelly gives us directions to the Drafthouse which no longer exists. After getting directions, we run all the way to the Alamo Ritz.
When we get there Matt Dentler, the SXSW programer, spots me and tells us the bad news: We're at the wrong theater. Turns out the press screening was at the Alamo Lamar theater, miles away. We gave Quint from Ain't It Cool a call to confirm this fact, and discovered the screening didn't actually begin until 6:00pm, which gave us 30 minutes to make it across time. Five minutes later after hailing down a cab, we're stuck in traffic, doubting that we'll ever make it on time.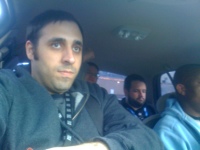 We run into the movie theater, and Quint saved us four seats (thanks Quint!). The Alamo Drafthouse is one of the coolest movie theaters I've ever been to. There is a counter in front of each row of seats. Before and during the movie you can order food and beverages, and even alcohol (hey, it is a drafthouse). Me and Neil ordered a pitcher of Diet Coke for like 5 bucks and Neil somehow talked me into getting a Pulp Fiction-ish $5 Shake, which I probably shouldn't have had, but it was awesome none-the-less. Weird vintage Grindhouse-esque drunk shorts play on the big screen as you wait. The film reel got their late and the screening didn't start until almost an hour after schedule.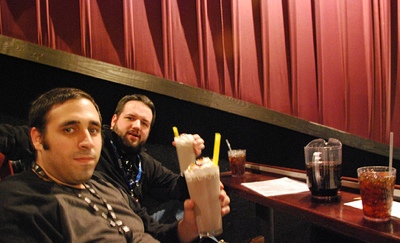 The movie was okay to good, but not great. Neil, Brian and Alex seemed to like it more than me and we argued about te film while catching a cab outside the Drafthouse.  We even took our argument to twitter. Apparently it turned out to not be the cab we called for and we were kicked out of the car two minutes later. Quint from AICN drove by laughing at us, as he should have. Our cab eventually shows up and all of us decide to ditch 21 for the Second Skin premiere.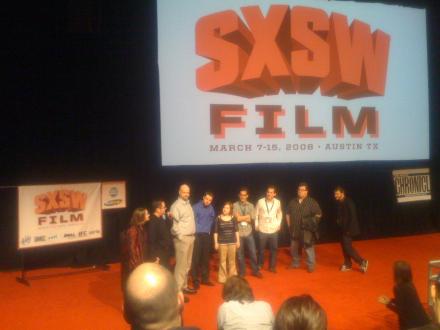 Second Skin was a great documentary about Massive Multi-player Online Video Game Players. I'm actually rather glad I ended up at the convention center instead of the 21 Premiere at the Paramount.
After the screening we took off to the the SXSW Opening Night Party at Buffalo Billiards, and one thing is immediately clear – SXSW knows how to throw a party. Te official parties at Sundance would probably be considered lame compared to this shindig. Three floors, open bar, billiards, shuffleboard, free arcade games.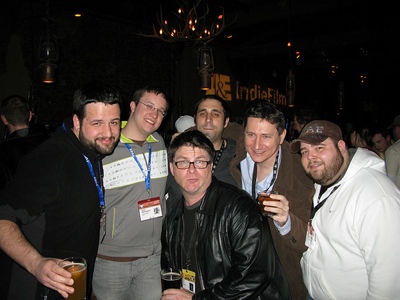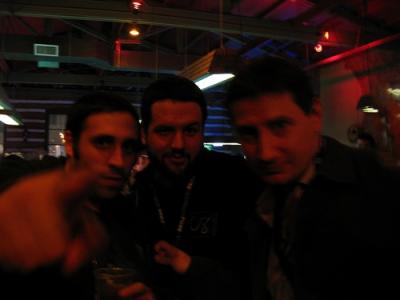 We met up with John Campea from The Movie Blog, who just flew in from LA. We hung out with him for a while and agreed to all record a podcast later in the week which would combine most of the movie bloggers into one room at one time. I think it's a cool idea, let's see if we can find time to line up everyones schedules and make it work.
We met up with the publicist that Alex drunkenly pulled into the snow at Sundance and the director, producer and cinematographer from BlipFest – Reformat the Planet. I hope to see their film on Saturday night but I'm looking at some schedule conflicts.
The guys from Cinematical (Erik Davis, Scott Weinberg, and Christopher Campbell) arrived late and told us that 21 was really bad. Thank god I didn't go after all. Alex progressively got drunker and drunker and we eventually lost him while he was trying to find the bathroom. So we stood outside for a good fifteen minutes talking to the Cinematical guys while waiting for Alex to find his way out of the party.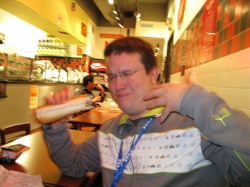 Brian took us to Jimmy Johns, a good cold cut sandwich chain which is apparently big in the mid-west, although I had never heard of them before. I got a turkey sub which more than filled my drunken munchie cravings.
Alex continued to give unsolicited comments to strangers on the walk back to the car, and on the drive home, which is always fun. Neil decided to take a highway route to avoid streets with heavy people traffic, probably more for the sake of Alex.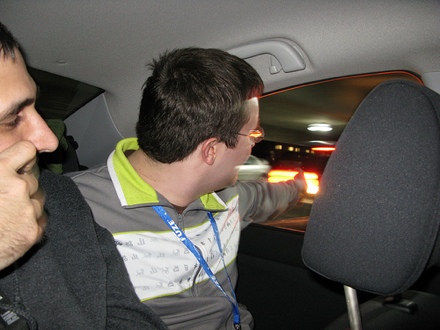 After getting home from late last night from the opening night SXSW Party, we decided to record a video FightCast (probably not a good idea), reviewing Harold and Kumar Escape from Guantanamo Bay. Alex Billington from FirstShowing was a little drunk... okay, a lot drunk. And cameo appearances are made by Neil and Brian from Film School Rejects and Kevin Kelly from io9. This is probably the most unprofessional piece of film criticism I've ever posted on /Film, but hey, we also posted Sexman (yes, I know, he's wayyyy funnier). Those following the /Film Twitter Page know that I decided to wait until the morning to make a decision on if I would post this or not. And I think it's fun enough.
[flv:http://media2.slashfilm.com/slashfilm/trailers/fightcastkumar.flv 400 292]
We decided to crash without posting any news updates, the night was over hours ago and everyone was tired. It's now clear to me that SXSW is completely different from Sundance. I expect most days will probably go as follows: screening films from 2-10pm, going to a party, blogging, and then waking up at noon. Sundance was more about waking up early in the morning for a screening and sitting in dark pseudo-ovie theaters until well past midnight.
As always, please keep checking back to our Twitter feed, as we're updating that throughout the day. Follow us!
Thanks to Brian and Neil from Film School Rejects for some of the photos (the better quality ones). You can see more photos from our adventures on their Flickr page.