Box Office Tracking: 10,000 B.C. Headed For $40M+; Bank Job A Dud!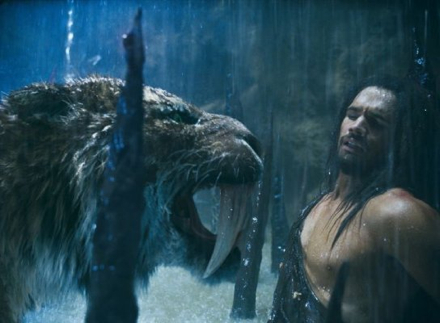 10,000 B.C. has very strong Total Awareness of 83%, compared to a nearly-identical 82% for 300 last year, but the Emmerich-directed prehistoric epic has better Definite Interest 57%-52%, although 300 scored better with Males Under 25 (78%-57%) and Males 25 Plus (59%-49%). The 2 films have identical 24% First Choice numbers at the same stage of their marketing cycles. 300 went off with a considerably stronger First Choice with Males Under 25 (49%-37%), but younger women are more interested in 10,000 B.C. (11%-7%).
One of the major considerations here is that 10,000 B.C. is rated PG-13 compared to 300's strong R. Also women seem more open to watching wooly mammoths over Leonidas and his noble Spartans. Un-Aided Awareness for this year's Warner Bros loincloth flick, however, is lagging 300 17%-9%. That means there is less buzz and less anticipation. Given all of that, 10,000 B.C. seems headed for $42M-$45M.
Fresh from the vaguely disappointing Welcome Home, Roscoe Jenkins (Universal), Martin Lawrence returns to America's multiplexes with College Road Trip (Disney). This is a G-rated film with muh broader family appeal than Roscoe Jenkins. In fact, College Road Trip has 84% Awareness compared to the 62% score registered by Universal's Lawrence vehicle.
I'm told that industry tracking for College Road Trip is a few ticks behind the tracking for Disney's family-oriented The Game Plan. The Rock football pic opened with a better First Choice 12%-9%, but The Game Plan was driven by more predictable young males instead of the young females who will fuel this week's Disney movie. The final opening weekend gross for College Road Trip will likely be more than Roscoe Jenkins' $16.2M but less than the $22.9 grabbed by The Game Plan. That should put Lawrence's new film in the $17M-$20M range.
The third major wide release is The Bank Job from Lionsgate. Last August, Jason Statham starred in WAR, an action flick also from Lionsgate, and it managed $9.82M in its opening weekend. Bank Job is unlikely to match that take as my sources tell me that it trails in Total Awareness 59%-40%, Definite Interest 37%-26% and First Choice 7%-5%. Plus, WAR was boosted by a nifty 10% First Choice among Under 25 Males. On a rather limited 1,300 or so screens, The Bank Job appears to be headed for a lackluster $4M-$7M.
Here are my final predictions for Friday, March 7 thru Sunday, March 9:
1. 10,000 B.C. (Warner Bros) – $42.7M
2. College Road Trip (Disney) – $18.75M
3. Semi-Pro (New Line) – $7.1M
4. Vantage Point (Sony) – $6.9M
5. The Spiderwick Chronicles (Paramount) – $5.65M
6. The Bank Job (Lionsgate) – $5.1M
7. The Other Boleyn Girl (Sony) – $5M
8. Jumper (Fox) – $4.5M
9. Step Up 2 the Streets (Disney) – $3.5M
10. No Country For Old Men (Miramax) – $2.8M
11. Fool's Gold (Warner Bros) – $2.75M
12. Penelope (Summit) – $2.5M
Read More on Fantasy Moguls.