Step Brothers Movie Trailer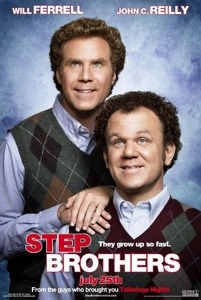 I know I'm probably going to get slammed for saying this, but, I'm getting sick of Will Ferrell comedies. Don't get me wrong, I have been a huge fan of Ferrell since before he had this huge mega-following (did anyone even see him in Dick?). And I'm not saying that Will Ferrell isn't funny, because he is. I'm just getting sick of the type of comedies he's been doing for the last few years. Sure, I laugh at the jokes, and my friends quote some of the lines, but a movie needs to be more than a few good jokes, some quotable lines, and a sorry formulaic storyline. I think what I'm looking for is something more in line with a Judd Apatow comedy. (Note: this rant doesn't include Stranger Than Fiction, which I actually dugg a lot)
But my friend Neil at Film School Rejects has read the script for Ferrell's upcoming comedy, Step Brothers, and insists that it is hilarious. Ferrell and John C. Reilly play two spoiled guys who become competitive stepbrothers after their single parents get married. I also think Reilly is hilarious, and have thought so since Boogie Nights. And it's a shame that more people didn't see Walk Hard. If you told me 5 years ago that Ferrell and Reilly were going to team up for a comedy, I would have been extremely excited. But Step Brothers is directed by the same guy who brought us Talladega Nights...
Aside from the bunk bed sequence towards the end (which has already been done in other comedies), I'm really not sure about this movie. I mean, It looks funnier than Forgetting Sarah Marshall, but what doesn't? Watch the movie trailer for Step Brothers below, and tell me what you think.
[flv:http://media2.slashfilm.com/slashfilm/trailers/stepbrothers1.flv 460 248]
You can also watch the new trailer in High Definition on Yahoo! Movies. Step Brothers hits theaters on July 25th 2008.