Indiana Jones 4 Reshoots? [UPDATED]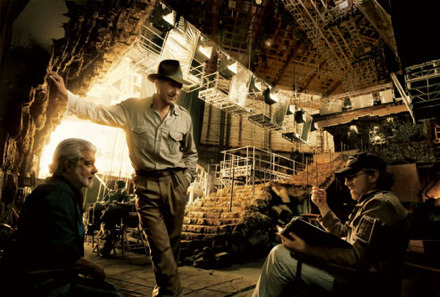 Update: I just got off the phone with Paramount, and have confirmed that the shoot in Pasadena is actually just an establishing shot. The studio claims that no lead actors will be featured during the additional photography on Friday, and that this shot was planned for during production, but they decided to wait until editing to see if they would actually need it. So there you have it.
I got a tip in my e-mail box that Steven Spielberg is reshooting some scenes for Indiana Jones and the Kingdom of the Crystal Skull in Pasadena on Friday February 29th 2008. I have confirmed with the Pasadena Film office that Genre Productions, LLC (the production office used for Indiana Jones 4) will be shooting something at residential street address which had a building permit issue in late January. So this could just be an additional exterior shot or something. I'm not sure if this is the only day of additional photography, but it's the only day of production in Pasadena, California.
Reshoots and additional photography is thought to be never a good thing, but has become a normal thing now-a-days. I hate to jump to conclusions... Anyone have any more information on the additional photography on Indy 4? E-mail me!