Step Up 3D?! The Rock Is The Tooth Fairy?!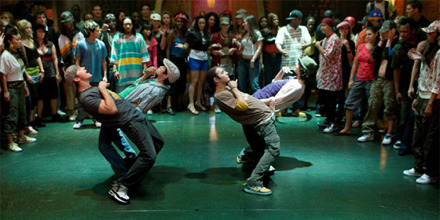 I was basking in extreme disbelief of the stubbornness and ignorance of the response of some people to my latest rant. I basically attempted to prove that Michael Bay, by literal definition, is not a "hack", yet people refuse to believe Merriam-Webster over the nonexistent facts which most people call opinion. Responses like "Michael Bay is a hack, you don't know what you're talking about" remind me of the ignorant mindset which got us in such a mess overseas.... And just then two news stories popped into my RSS reader. I really can't understand the strong hatred toward a director like Michael Bay when projects like these are being greenlit every day.
The first project is a second sequel to Disney's Step Up series titled Step Up 3-D. Step Up 2 the Streets director Jon Chu in talks to return... yay I refused to see the first film and its sequel, so there is not much I can say in offense other than "Why?"
The second is a story about how Dwayne "The Rock" Johnson has signed on to a movie about an ordinary man who's brought in to try to save the tooth fairy kingdom. Directed by the guy who did The Santa Clause 2: The Mrs. Clause, The Santa Clause 3: The Escape Clause, with a script which has four names on the cover by my count (never a good sign), The Tooth Fairy is scheduled to begin shooting in August. I was one of the few that believed that Dwayne Johnson had the potential to be the next big action star, instead his career has taken an off-ramp into bad family comedies which are worth some quick cash and nothing else. It's a shame, because this guy has so much more potential.
It's times like these when I wish Michael Bay were making more movies. At least I can sit back and enjoy those on a pure popcorn level.
Discuss: Would you rather watch Step Up 3-D, The Rock in The Tooth Fairy or a new Michael Bay action film?