Cool Stuff: Han Solo In Carbonite Executive Desk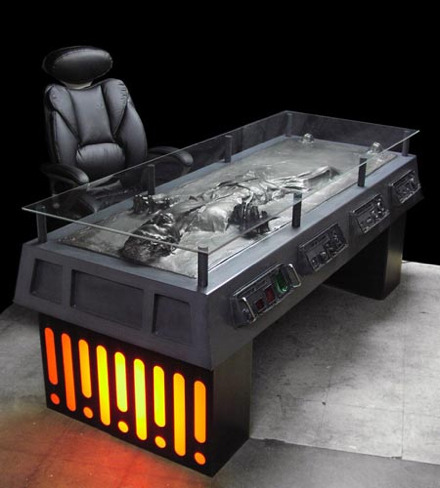 I've been looking for a cool executive desk for a while, but often I find them too high class or professional for my tastes. But I think I've finally found something cool enough for the /Film Offices – The Han Solo in Carbonite Executive Desk. Too bad it's not on sale. Tom Spina Designs created this desk for Mark Hall of the Grammy Award winning group Casting Crowns.
"We had someone looking for a highly unique desk with a sci-fi theme for his home theater/home studio office. I created several designs and eventually hit upon the idea of using a Han in Carbonite (derived from an old Illusive Concepts artist proof) as the top of a combination desk and art piece. I did the initial concept and sketches and Richard handled the details, worked with the metal shop and did the final build. Two RPF'rs also contributed resin detail pieces (where better to go than the RPF for the best parts around?). The main "box" for the desk is custom metal, as are the computer cut side boxes which both light up with an orange glow. The piece is finished with a 1/2" thick glass table top."
But I really wonder how the desk might look with a screen, keyboard, mouse, mousepad, and all the other junk which needs to be on top of it to function. Thanks to Derek, Bryan, and anyone else who sent this in to us.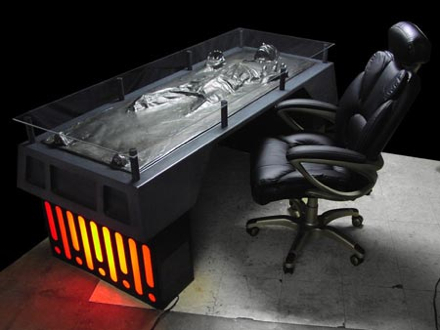 Cool Stuff is a daily feature of slashfilm.com. Know of any geekarific creations or cool products which should be featured on Cool Stuff? E-Mail us at orfilms@gmail.com.