2008 Academy Awards Were The Least Watched In Recorded History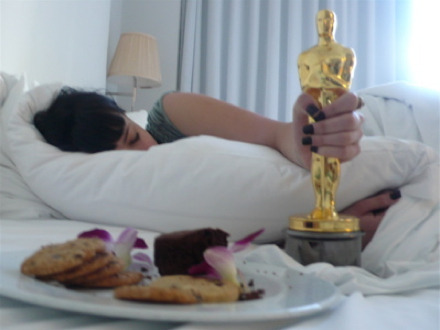 Nielsen is reporting that the 80th annual Academy Awards telecast was the least watched in history (or at least since 1974 when they started tracking the event). This was pretty much expected, as most of the films and contendors were art-house level favorites, and not mainstream efforts like Titanic or Lord of the Rings. Public interest was at an all time low, resulting in  32-million viewers.
The 2003 telecast, was the previous all-time low, clocking in at 33 million viewers. Chicago won best-picture that year. The telecast was down more than 20% compared with last year's ceremony, which had more than 40 million people watching when Martin Scorsese finally won an Oscar for directing The Departed (note: a more mainstream film).
Note: While the photo above of Juno screenwriter Diablo Cody sleeping with Oscar is almost completely unrelated to this post (as Juno was probably the most "mainstream" of any of the films awarded last night), I thought it was funny enough to include in this post.