WonderCon: X-Files 2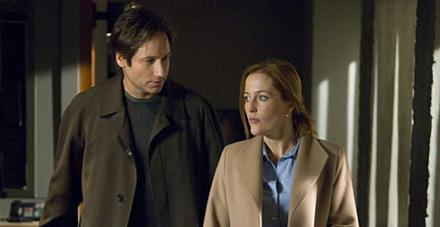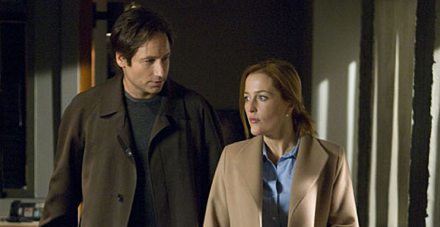 The X-Files are back, not on your television screen (thankfully), but in an all-new, apparently eagerly anticipated, big(ger) budgeted feature-length film. Creator/producer/writer Chris Carter is back, as are David Duchovny and Gillian Anderson reprising their roles as FBI Special Agents Fox Mulder and Dana Scully, respectively. Also on hand was Frank Spotniz, series writer, producer, and co-writer of the new, as yet untitled (or un-subtitled) sequel. The Wonder-Con audience eagerly cheered the four members of the panel. All four were in town after working yesterday on the still-in-production sequel.
Not surprisingly for an audience packed with X-Files fans, the trailer met with enthusiastic approval. Trailer riffed on the The Thing From Another World], something under the ice, a white-haired man in eyeglasses (Billy Connolly) leads an FBI team to an isolated location near a farmhouse. The agents set up a perimeter while the white-haired man digs frantically in the snow. What he's looking for and what he finds remains a mystery. Even more of a mystery is what's at stake, how Mulder and Scully are involved, and what, if anything, has changed in their relationship since the X-Files went off the air six years ago.
As frustratingly little as the trailer gave away, the panel gave away even less. Carter and Spotniz seemed to indicate that the script goes away from the alien/government conspiracy storyline that sustained The X-Files for most of its nine-year run. Instead, they opted for what one fan/questioner in the audience dismissively referred to as a "monster of the week" storyline. That might be true, but as any X-Files fan can attest, some of The X-Files better episodes had little or nothing to do with the alien/government conspiracy storyline (referred to as the show's "mythology" by fans and critics).
The question on almost everyone's minds is why a sequel and why now? After all, it's been six years after the end of the series and nine years since The X-Files: Fight the Future made its one and only appearance on theater screens. Fans turned out for Fight the Future, but non-fans didn't, at least not in enough numbers to make Fight the Future a major box office hit or a sequel a done deal. Carter sidestepped the question, saying only that the story he and Spotniz put together will scare the pants off of audience members and that audiences would see Mulder and Scully in a wholly new way. Later, Carter acknowledged that Duchovny played a major role in kick-starting the sequel, as were executives at Twentieth Century Fox (who told Carter it was "now or never").
The questions inevitably turned to the acting side. Duchovny and Anderson were asked about re-acclimating to their now iconic roles. Both said it was much harder than anticipated, with Anderson claiming it took her 48 hours before she felt comfortable in Scully's skin and thus gave bad-to-mediocre performances over those two days. Duchovny asked for specifics (as in, which scenes), but Anderson passed on answering. Interestingly enough, Duchovny said his most difficult scenes weren't performing in action-oriented set pieces, but in the smaller, make-or-break character moments he shared with Anderson and her character.
To the delight of X-Files fans, Carter confirmed that series' composer Mark Snow will return to score the sequel. While he didn't have to say it, he seemed to confirm that anyone else would have led to a loss of good will among X-Files fans. Although she doesn't appear in the trailer or, if she did, fleetingly, Carter confirmed that Amanda Peet appears in the sequel as a FBI Special Agent Dakota Whitney.
As for a sequel to the sequel (Carter didn't speak of it in terms of a trilogy), that all depends, of course, on how well the still-untitled sequel does at the box office in July, but Carter and Spotniz seemed enthusiastic about venturing back into the X-Files universe and telling more stories, especially now that they don't have to contend with the grind associated with working on a weekly television series.