WonderCon: Wanted - Reshoots?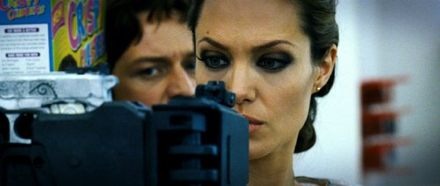 Wonder-Con premiered an extended scene from Wanted, the big screen adaptation of Mark Millar (Civil War, Wolverine: Enemy of the State, Ultimate Fantastic Four, Superman: Red Son) and J.G. Jones' (the forthcoming Final Crisis with Grant Morrison for DC, 52 covers) graphic novel about a shadowy organization that specializes in assassinations and a sub-average loser handpicked to join them. James McAvoy (Atonement, The Last King of Scotland) was on hand to discuss his role.
The director, Timur Bekmambetov (Daywatch, Nightwatch), couldn't be there, but he introduced a six-minute extended scene via video. If you've seen the trailer, then you know (or think you know) what to expect. The extended scene begins in a supermarket with Jolie's character sporting a gun that can look around a corner and better yet, shoot around a corner (or corners) then continues in the parking lot before moving on to a car chase in and out of a tunnel. It's even more intense and ridiculous than the trailer indicates.
The scene alone redefines "over-the-top, insane action." One other thing was clear: the scene wasn't played for laughs, at least not intentionally, but once you get into near super-human, gravity defying heroics, then you might as well expect laughs (which dutifully happened). It was also, as the presenter indicated, rough footage. Some of the color timer seemed off, the visual effects unpolished (e.g., anything involving bullet POVs). The sound also wasn't in final form. Composer Danny Elfman and Bekmambetov are also still working on the score. From what we heard in the intro, Bekmambetov is also do reshoots. What those are he didn't say, but that generally doesn't bode well for any movie (unless they're just inserts or pick-up shots). Hopefully, that doesn't mean the studio wants to make major changes, up to and including a new ending spurred by preview audiences.
Afterwards, McAvoy took questions from the Wonder-Con audience. McAvoy did say that Mark Millar has seen a rough cut of the film and was happy or satisfied with what he saw. Anyone with a passing familiarity with Millar knows to take anything he says, first or second hand, with a grain of salt (Millar is known for shamelessly promoting any and all of his projects as world-changing). Other questions ranged from what McAvoy thought of the role and what he thought of it. McAvoy seemed to approve of the ambiguous nature of his character and the world of Wanted. He also pointed out that while the assassins in Wanted have superhuman powers, but no capes and no cowls. McAvoy was asked about Bekmambetov and his direction of the actors. Not surprisingly, he claimed to be happy with the direction Bekmambetov gave the actors.
McAvoy also talked about taking on such a physically demanding role. While he's never done anything as physical as Wanted (it was difficult saving enough energy for the smaller character moments), he found the role rewarding. As to what drew him to the role, he said it was the character that starts off as a loser working a menial job and his transformation into a hardcore assassin type. Maybe more importantly, he said he loved the action aspects, claiming his inner 14-year who'd seen the Lethal Weapon movies and the Back to the Future movies. Got a chance to jump over things. He also said he's been lucky to work with fantastic actors. Forest Whitaker in The Last King of Scotland scared him. He concluded by saying he's always learning as an actor, but more than that, the experience and that Atonement was his favorite role.