Box Office Tracking: Vantage Point Headed For $14M-$17M; U2-3D Could Crack Top 5!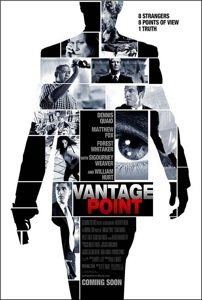 An odd mix of films arrive in theatres for Oscar weekend. The big title is clearly Vantage Point (Sony), opening on 3,000+ screens, but also New Line delivers Michael Gondry's Be Kind Rewind, starring Jack Black and Mos Def, at 800 or so locations, Lionsgate dumps an alleged comedy called Witless Protection on about 1,300 screens, MGM trots out the long-delayed Charlie Bartlett on 1,100+ and National Geographic expands the spectacular U2-3D at 678 3D-equipped houses.
Despite it's a-list cast, including Dennis Quaid, Oscar winners Forest Whitaker and William Hurt, Matthew Fox from TV's Lost and Sigourney Weaver, Vantage Point hasn't really popped in industry tracking. It's a densely-plotted assassination thriller, but terrorism figures prominently, which has been the "kiss of death" for movies like Rendition, Lions for Lambs and The Kingdom.
Peter Berg's excellent Saudi-set The Kingdom opened on September 28, and it registered a disappointing $17.1M opening. The tracking for Vantage Point is very similar to the tracking for that Jamie Foxx vehicle.
UN-AIDED AWARENESS
The Kingdom â€" 4%
Vantage Point â€" 2%
TOTAL AWARE
The Kingdom â€" 70%
Vantage Point â€" 65%
DEFINITE INTEREST
The Kingdom â€" 42%
Vantage Point â€" 40%
FIRST CHOICE
Vantage Point â€" 16%
The Kingdom â€" 15%
The ray of sunshine for Sony is that Vantage Point is the First Choice of more Females Under 25 (10%-6%) and Females 25 Plus (19%-11%) than The Kingdom. Also, Universal's fall terrorism thriller opened up against box office juggernaut The Game Plan, and Vantage Point won't be facing any new release with that much potential.
One other dynamic in the weekend race is Sunday's Oscar telecast. A high-end commercial film like Vantage Point will lose early evening moviegoers in the eastern time zone and even late matinee ticket buyers in the west. Given all of this, I'm projecting a soft $14M-$17M weekend for Sony, which would be a distinct disappointment to all involved.
Be Kind Rewind, the new movie from Eternal Sunshine of the Spotless Mind and The Science of Sleep director Michael Gondry, is showing some signs of life in the most recent industry tracking. Interestingly, its strength appears to be with Males Under 25, clearly because of Jack Black's presence, but will that audience seek out this limited release at high end commercial and specialty houses?
Gondry's latest adventure is showing the most Definite Interest among Under 25 Males at 47% (compared to just 35% for Vantage Point), but there are just not enough screens in this run to rack up an impressive weekend number. Be Kind Rewind should finish in the $3M-$5M range or about $4,000-$6,000 per location.
Witless Protection and Charlie Bartlett barely deserve mention. The Lionsgate comedy is showing only 22% Definite Interest and a 3% First Choice. That should spell no better than $2M-$4M for the opening 3 days of Witless. Meanwhile, Charlie Bartlett, starring the promising Anton Yelchin (Alpha Dog and the upcoming JJ Abrams treatment of Star Trek), and, with early reviews leaning positive (67% Fresh on Rotten Tomatoes as of Wednesday night),
has a very uphill climb. Given its screen count and tracking performance (Total Aware – 31%, Definite Interest – 23%, First Choice â€" 2%), Charlie will likely manage something in that same $2M-$4M range.
National Geographic is the distributor handling U2-3D, the new concert film from the legendary Bono-led band. The rookie distributor is managing to grab virtually all of the nation's Digital 3D locations (although likely short of the number that the recent Hannah Montana from Disney opened on). There is no tracking available for U2-3D, and it's difficult to tell how high the awareness is for this movie-going experience. I suspect that $10,000-$12,000 per location is possible, a far cry from Hannah's $45,000+ PTA on opening weekend, but still an impressive $6M-$8M for the weekend.
Here are my predictions for Oscar weekend, February 22-24:
1. Vantage Point (Sony) – $16M
2. Jumper (Fox) – $13.3M
3. The Spiderwick Chronicles (Paramount) – $11.5M
4. Step Up to the Streets (Disney) – $8.5M
5. U2-3D (National Geographic) – $7.1M
6. Fool's Gold (Warner Bros) – $7M
7. Definitely Maybe (Universal) – $5.9M
8. Welcome Home Roscoe Jenkins (Universal) – $4.4M
9. Be Kind Rewind (New Line) – $4M
10. Juno (Fox Searchlight) – $3.2M
*Charlie Bartlett (MGM) – $2.4M
*Witless Protection (Lionsgate) – $2M
Read More at Fantasy Moguls.