The Ruins Movie Poster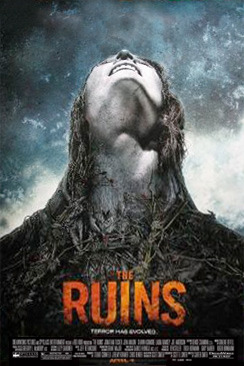 has a snapshot of the new poster for Carter Smith's adaptation of Scott Smith's bestselling novel The Ruins (
you can watch the previously released movie trailer here
). As always, we cleaned the snapshot photo up in photoshop for your viewing pleasure. I'm really digging the one-sheet.
The Ruins follows two American couples, just out of college, enjoying a pleasant, lazy beach holiday together in Mexico , who become entangled in a brutal struggle for survival after visiting remote Mayan ruins, site of a fabled archeological dig. Directed by Carter Smith, the film adaptation stars Jonathan Tucker (The Black Donnellys), Jena Malone (Saved), Shawn Ashmore (X-Men: The Last Stand), Laura Ramsey (She's the Man) and Joe Anderson (Across the Universe).
The Ruins hits theaters on April 4th 2008.