Dreamworks Bitchslaps Eagle Eye To September?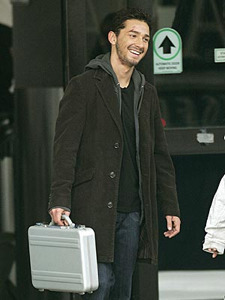 Eagle Eye was a hot property from day one, originating as an idea/story from legendary director Steven Spielberg. Directed by D.J. Caruso, re-teaming with Disturbia star Shia LaBeouf (Transformers), and set for a much coveted early August release date. But something has happened...
Maybe the film is running behind schedule. Or quite possibly, maybe they are afraid of the Judd Apatow-produced stoner comedy Pineapple Express? I'm sure the studio might explain that this is just a last minute addition to the major schedule reshuffle announced last week. Whatever the reason, Dreamworks has moved the film from its prime August real estate to late September. And while this move might seem like normal business to most casual movie fans, I believe something major is behind this decision.
Call me a conspiracy theorist if you want, but the facts show that a move from August to September is a major loss. It just doesn't make sense. The average big Hollywood movie in August opens twice as big as a big Hollywood release in September. This could mean the difference between a $35-40 million to a $20-$25 million opening weekend. Are there technical problems or has the studio suddenly lost faith in the film's earning potential?
Eagle Eye will now open on September 26th 2008, up against The Coen Brother's Burn After Reading starring Brad Pitt and George Clooney, and the Paul W.S. Anderson remake of Death Race starring Jason Statham.Update: Someone working on the film claims that production is behind schedule and they have 2-3 weeks of shooting left.