Cool Stuff: Ultimate WALL-E Animated Programmable Robot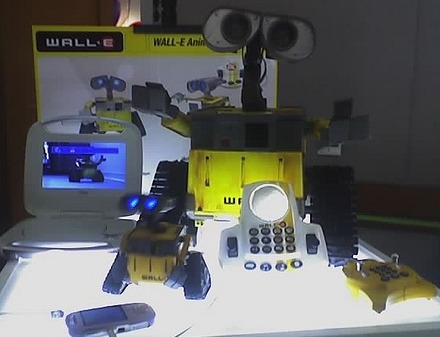 Ever since I saw the first teaser trailer for the new Pixar film, I've been anxiously awaiting the day when Disney releases a WALL-E that can run around my apartment and scare my cat. Last week we showed you the first released photos of WALL-E action figures from the UK ToyFair. The action figures shown last week were a first step (and will likely invade my desk space upon their release) but I've been waiting for something more heavy duty. I even wrote in the last Cool Stuff post that Disney had better be planning on making some adult toys for the science fiction fans that will no doubt fall in love with this movie. And now comes "Ultimate WALL-E".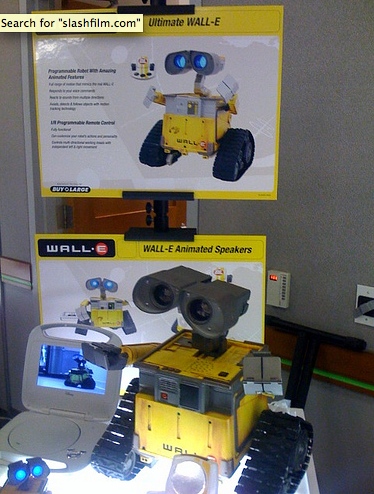 I'm not quite sure where these photos originated. I found them on Flickr, and I've also seen them on a couple blogs, but they appear to be from an internal or private event. Unfortunately the resolution of the photo isn't high enough to read the description text. And even more unfortunately, I don't have one of those software programs you see in the movies and on TV shows like 24 where you can zoom into any photograph and instantly clear up the focus (someday...).
But what I can gather from my limited eyesight is that the robot is programmable via remote control, can drive around, "Responds to your every command", has "amazing animated features" and "full range of motion that matches that of WALL-E". I'm sorry I don't have better photos or more information about this item at this time, but this is all I could find. Thanks to my good friend Alex Billington, who used his elite photoshopping skills to decipher some of the text. I'm sure we'll find out more about Ultimate WALL-E as the release date nears. I'm sure it will probably cost over $99, but that's just a guess based on the R2D2 toy droid that was released years back.
The WALL-E animated speakers displayed below the Ultimate WALL-E are also worth noting. One thing is for sure, Disney is going to be getting a bunch of cash from me alone.
Cool Stuff is a daily feature of slashfilm.com. Know of any geekarific creations or cool products which should be featured on Cool Stuff? E-Mail us at orfilms@gmail.com.