Michael Pitt Disses Saw Fans, Soldiers, Funny Games Detractors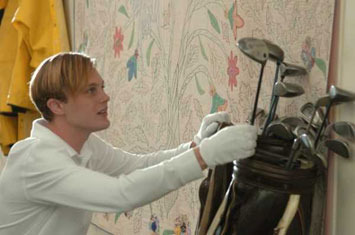 "Saw films are below par."
Brooklynite actor Michael Pitt has come a long way from starring on Dawson's Creek, and in the current issue of Giant magazine he delivers, in context, some particularly vapid-funny-traditionally-hipster quotes about the Saw franchise, U.S. soldiers and people who won't/don't "get" the March remake of Funny Games.
On his film preferences...
"I don't even know what Saw or Hostel are. Are they like Texas Chainsaw Massacre? I guess I'm drawn to things like Lawrence of Arabia."
And then he adds...
"[Audiences that don't like Funny Games] can kiss my ass. I hope they do [get angry with] Funny Games. It challenges you. If you're not up to the challenge, go see Saw."
And not to get Fox News-y, but coming from Pitt, "one of the faces of Emporio Armani and a friend of author J.T. Leroy," this quote equating being a soldier to regression is ridiculous...
"People think that, until you've killed someone or had someone shoot at you, you're not a grown-up. Going to war isn't growing up; it's moving backwards."