Star Trek Pushed Back To May 2009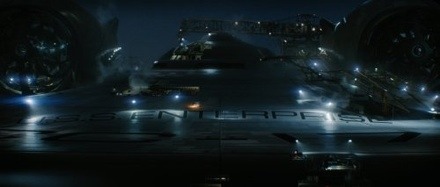 Bad news for Star Trek fans. Paramount has announced that they have decided to push back the release of JJ Abrams' Star Trek prequel/reboot from December 25th 2008 to May 8th 2009. The studio claims that the move is part of a major reshuffle in the Paramount/DreamWorks schedule, and studio insiders say they are more likely to gross more with a Summer date instead of a Winter release. And that very well might be true, but I have a different theory about the release date move.
It's not a secret that JJ Abrams has been frustrated on the set of Star Trek because he found himself unable to change the script on the spot. There were a few ideas that were presented on set, but he was unable to include because of the writers strike. For those of you who didn't know, the writers strike prevented any revision to a WGA written screenplay. Abrams, a proud card carrying member of the WGA, was unwilling to break his union rules. This release date push will allow Abrams and crew to do a couple reshoots, and rework some of the script, which until today was locked. This affords more time for computer generated effects, which might allow for the inclusion of some ideas which might have previously been impossible to meet the December schedule. The good news is, in the end, the fans win.
Right now Star Trek is the sole owner of the May 8th release date. X-Men Origins: Wolverine is set to hit theaters the week before, followed by The Da Vinci Code prequel Angels & Demons the week after.
via: Variety