Jason Reitman Says No Juno Sequel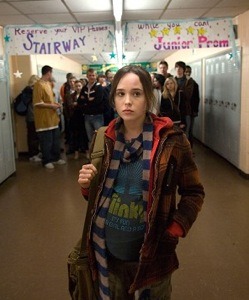 The Hollywood rumor-mill is starting to spin the idea of a Juno sequel. You might be scratching you head wondering: Why would they even consider making a Juno sequel anyway?
Juno has taken in over $136 million at the box office. By the end of its theatrical run, Juno will likely have grossed more (domestically) than Superbad, Enchanted, Bee Movie, Fantastic Four: Rise of the Silver Surfer, Live Free or Die Hard, Hairspray, Ocean's Thirteen, Ghost Rider, Beowulf, SAW IV, Halloween, Sweeney Todd, and Resident Evil: Extinction. And I'm sure we'll see another Fantastic Four movie, and they're already prepping two more SAW films.
But director Jason Reitman wants no part of a sequel, citing possible story problems.
"I can't see it. She got pregnant once; I just can't see her getting pregnant again," Reitman told the New York Post.
And with Diablo Cody being the IT screenwriter of the moment, I don't think she'll be finding time to work on a potential continuation. That's not to say that the studio might not demand a sequel (hey, it's easy money). And didn't Searchlight proceed on a sequel to 28 Days Later without Danny Boyle's participation? (Boyle was technically credited as executive producer). Readers are telling me that I'm incorrect about Boyle's lack of involvement.
Juno is a much different entity and I don't see any sequel talk progressing without the interest of Cody or Reitman. Kevin Smith made a Clerks II more than a decade after the release of the first film. So you never know if a story might present itself later on which may lead to a cinematic reunion.