Video Footage: The Set Of Star Trek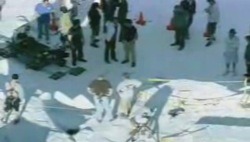 KTTV Fox 11 in LA caught a glimpse of the set of JJ Abrams' Star Trek as shooting took place close to downtown Los Angeles.
The footage is pretty much spoiler free (there appears to be a downed ship in an Arctic location), but interesting none the less.
Check it out after the jump.
via: trekmovie