Chaos Theory Movie Trailer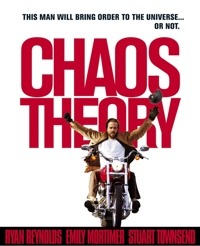 Pretty Persuasion director Marcos Siega returns to the big screen with a dark romantic comedy about an obsessively organized efficiency expert (played by Ryan Reynolds) whose life unravels in unexpected ways when fate forces him to explore the serendipitous and chaotic nature of love and forgiveness. The film also stars Emily Mortimer, Stuart Townsend, Sarah Chalke, and Mike Erwin.
The trailer didn't impress me much, and Ryan Reynolds has a track record of being in some really bad movies. It's too bad, he actually has a great sense of comic timing, and with the right projects...
Anyway, the film was released in Japan in October, and was well liked by audiences (currently rated 9.3 out of 10 on imdb with only 304 votes). An American release date has not yet been announced. Watch the trailer below.
[flv:http://media2.slashfilm.com/slashfilm/trailers/chaostheory.flv 470 200]
You can also watch the trailer in High Definition on ChaosTheoryMovie.com.