WALL-E Super Bowl Advertisment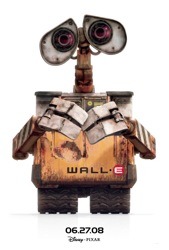 I posted a short video clip of WALL-E's encounters with a BuyNLarge Vaccume earlier today, without the knowledge that this short would be the focal point of Disney/Pixar's WALL-E Super Bowl advertisement. I am reposting, because the Super Bowl spot saw the addition of Woody and Buzz Lightyear (from Pixar's Toy Story) sitting on a couch watching WALL-E's antics on the television.
I am probably the biggest supporter of this film, but it worries me terribly that Disney (or is it Pixar) seemingly has no faith on the concept to sell itself. If you remember, the first teaser trailer had a preamble story about how WALL-E was one of the big ideas created at that lunch meeting, the same one where Toy Story and Nemo were born. And now this latest bit, I'm getting the strong feeling that the company doesn't have faith in the audience to understand the idea behind this latest Pixar story. Instead they are hoping to give the film (what the people in the industry call) "the rub" from the companies' other films and personalities. You could say I'm searching, that I might be reaching, but I believe this to be true.
Anyway, watch the new advertisement below, and remember, Wall-E hits theaters on June 27th 2008.
Our server is getting slammed, please watch the video via the embedded player above for now.
[flv:http://media2.slashfilm.com/slashfilm/trailers/wallesuperbowl.flv 460 254]