Marvel Studios Planning Venom Spin-Off Movie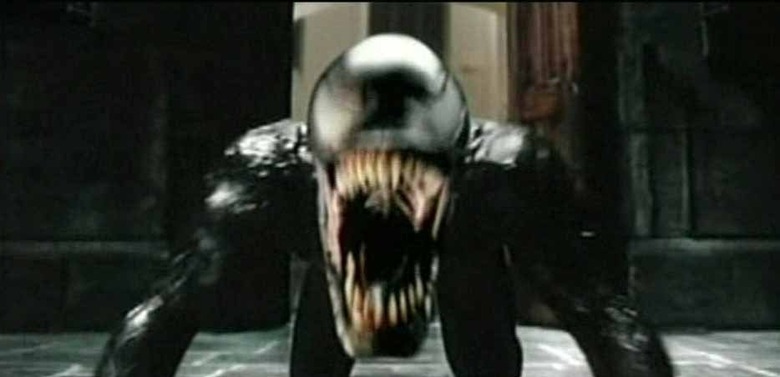 A random news symbiote has infested the Nets today and, as Ned Ryerson would squeal, "it's a doozy." IESB reports that Marvel Studios is prepping a Venom spin-off and has already met with "several A-list writers." Before you fire off the sirens to alert the strikers, you may recall that a bit ago Marvel cut a deal with the WGA. Apparently the superhero studio has retained the rights to the character, as he/it previously appeared last summer in Sony's wobbly webbing cake that was Spider-Man 3, in the human form of Eddie Brock, played by actor Topher Grace. No word if Grace is still attached, and no word about Sam Raimi's involvement, but I'd guess he wouldn't direct the flick as he has admitted in the past that Venom is not his type.
Obviously, this project comes as a surprise since Venom, when full-blown, is a villain with less social skills than a pet rock; and for many fanboys it's a surprise as hotly anticipated as Critters Gone Wild, since Venom is cited as the largest flaw in Sam Raimi's second Spidey sequel. Personally, all of Raimi's Spider-Man movies are as pleasurable to me as staring at the sun, though the second one has its moments. I just don't dig their aesthetic and the "darkness"-arch and newfound maturity of the third one made the fourth Harry Potter look like Tropic of Cancer.
However, I'm not opposed to this film. Making a movie about an outer space ooze that turns a person into Spidey's hulking Id is kinda chill. There is the potential to do a visually stunning and madcap movie with Venom, especially if Carnage is involved. Drop Grace for the sake of a fresh take, and hire, I dunno, a director-duo like Crank's Mark Neveldine and Brian Taylor or even the Hughes Brothers to think outside the box while gunning for profitability and it's a winner.