Sylvester Stallone Says No More Rambo Films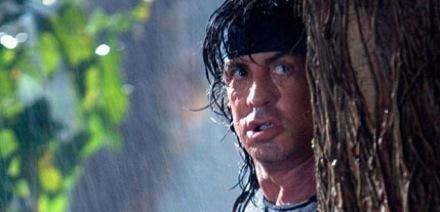 Say what?! Days after producer Harvey Weinstein started revving the hype machine for another Rambo sequel, director-star Sylvester Stallone is quoted as saying he's forever done with the character. The following quote is attributed to Stallone by the Guardian UK newspaper, apparently while the actor was at a press conference...
"This is the last Rambo just as Rocky Balboa is the last Rocky," Stallone told reporters. "I can't go any further. It was a miracle that it even got done."
This statement would seem to play against what Stallone has said previously while promoting his latest flick, which opened to $18 million plus last weekend. Most notably, in one of his Q&As with AICN [link is not retrievable on the site], Stallone gave the following response to a fan's inquiry about a fifth Rambo film...
I truly can't tell you yet because I think it would be bad luck, but I think a challenge would be to take the character which has been perceived mostly in a realistic vein and add another element of the surreal that would actually take the audience into a slightly different genre. It's not like I'm going to turn it into a full on Broadway musical starring the Muppets, but it is ambitious."
In a later AICN Q&A, Stallone was asked about his future involvement with action films post-new-Rambo...
"I love action films. I think they're highly underrated and it's unfortunate that the amount of effort and craftsmanship that goes into creating modern day mythology is considered light weight fare. It's not. It's a thousand times more difficult to do a profound action film than a dramatic film, but I know the consensus of so called dramatic purists would disagree. So to answer you question I would consider it a privilege to do more films in this genre."
There are other links online with pro-Rambo V quotes from Stallone, and he's contrasted the character's longevity with Rocky's and the parting shot that was Rocky Balboa a bit. CinemaBlend even reported on negotiations for a fifth film as far back as October. Did something happen in the last few days or weeks to change Stallone's mind, might he be changing his press quips to stabilize Rambo's box office and its global standing as the last in the franchise? Or is he really done and moving on to remakes of The Mechanic and Death Wish, and his pet-project Poe? One thing is for sure, the jungles in Rambo and the Thailand scenery are beyond impressive, more so than in the great Rescue Dawn, and I can't imagine the amount of labor involved for Stallone as both the lead actor and the director. Seriously. This is a fun action movie that beat its expectations to a pulp. The guy's in his early 60s, and it all seemed effortless.
The film's funny and very memorable ending can be interpreted as a final note or a set-up for another film. Hopefully, I get around to posting a review, but I'll go ahead and endorse this is as the best Rambo film since First Blood. The movie snowballs in terms of craziness, and by the time it ends, you're positive the Death Chart was off by, like, 300-400 kills. Check this film out, whether it's the last or not.