Disney Plans For National Treasure 3 & 4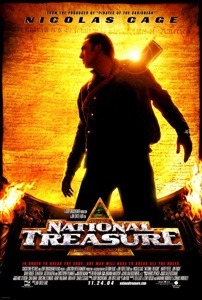 Yesterday, Disney registered the domain named for NationalTreasure3DVD.com and NationalTreasure4DVD.com, spawning rumors that Walt Disney Pictures is planning back to back sequels. National Treasure 2: Book of Secrets was released 6 weeks ago, and has already earned over $365 million worldwide, already beating the overall take of the original 2004 film. So a sequel seems almost certain.
And now Jim Hill has learned of a brief plot description has been making the rounds "which would supposedly send the Gates family off to Easter Island and beyond in search of Atlantis. More importantly, the pure, clean power source that was supposedly lost forever when this ancient civilization sank beneath the sea. Which — were it to be harnessed today — would immediately put an end to global warming. Not to mention making gas & oil obsolete." Could this be the information hidden on Page 47 of the President's book?
But with the writers strike still in full effect, this is all just here-say.