Sam Rockwell And Jemaine Clement Sign On For Jared Hess's Gentlemen Broncos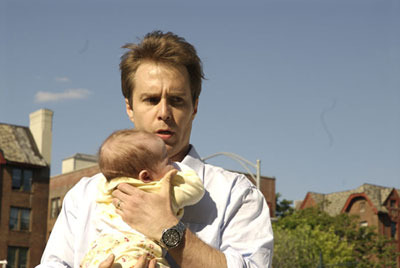 The actor with the best perma-squint in showbiz, Choke's Sam Rockwell, has just signed on, alongside Flight of the Conchords Jemaine Clement and youngster Michael Angarano, to star in director Jared Hess's comedy Gentlemen Broncos. Angarano will play a teen attending a writer's convention (what fun those are) where he discovers that his idea has been stolen by a "legendary fantasy novelist" played by Clement. Rockwell should have a field day as he plays the title character (what an odd name) in both the kid's and novelist's stories.
Hess, who previously directed Napoleon Dynamite and Nacho Libre, wrote the script with his wife, Jerusha Hess, and I like the log line, sounds write up his alley. Oh yeah, to the guy who bemoans when I don't mention this, that would make Hess, ahem, a writer-director. The film is set for release in 2009.
Not sure why, but I'm in the mood to see a comedy about a fantasy novelist, and Clement, whose face is quite devilish and elastic, is a bit of inspired casting. Movies that literally play with literary structure are always interesting, whether it's terrible (The Number 23) or mildly amusing (John Candy's Delirious). Anyone got another flick that fits this category? Discuss below.
Source Link: THR