Cool Stuff: Addict X Star Wars T-Shirts, Boba Fett Autograph Signing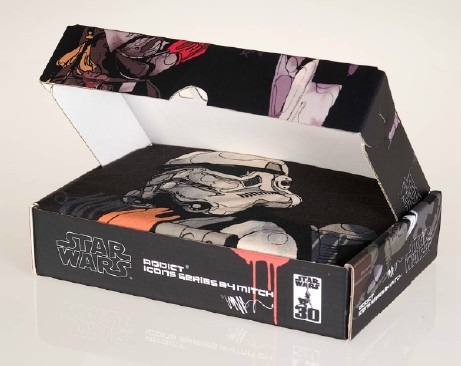 In yet another sign that the worlds of high end street wear and evolving Internet geekdom are merging, the UK clothing company, Addict, and Lucasfilm have collaborated on an exclusive line of three Star Wars tees. Featuring quality illustrations by the artist Mitch aka Mitchy Bwoy, the shirts are part of Addict's Icons Series and feature individual original trilogy staples Boba Fett, Sandtrooper (above) and Biker Scout. Mitch's work on the line exhibits a sharp color-by-numbers playfulness that nicely blends modern street art and the films' numerous print offshoots.
On Saturday, March 8th from 11 a.m. to 4 p.m., the actor Jeremy Bulloch, who played Boba Fett in Return of the Jedi and The Empire Strikes Back, will on hand at Addict's London store for a signing, and three models will be present decked out in "full film accurate armor and weapons." The invite is below. Full pics of the shirts, courtesy of Addict, after the jump.