Director Mark Romanek Quits The Wolf Man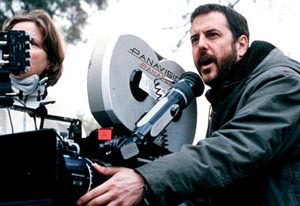 There is a thermometer in my mouth as I type this surrounded by cherry cough drop wrappers, but this news was too terrible to not germinate my keyboard. Director Mark Romanek has left The Wolf Man, the $100 million remake of the horror classic starring Benicio Del Toro in the title role alongside Anthony Hopkins and Emily Blunt that was scheduled to start filming on February 18th. What happened? Well, of course ye ole' "creative differences" are to blame, but more specifically Romanek wanted a larger budget. Full moons and fake wolf hair are nothing to laugh at, I mean what with the price of gas these days and London brothels and cucumbers in bulk.
Universal Pictures is quickly seeking a replacement. Who would you like to see? A source tells AICN that names already being tossed around include Cloverfield's Matt Reeves and newcomer Breck Eisner. While the cast is rather cool, Romanek was the main factor in my increasing anticipation of the project. His prior film, 2002's One Hour Photo, is now a cult classic and if you've seen it, you find yourself thinking about it occasionally like a little florescent-lit bell of eeriness and dread going off in the back of your mind. And of course, there's his feted video work, including the perennial favorite "Closer' for Nine Inch Nails, "Novocaine For the Soul" for Eels, and "Devil's Haircut" for Beck. Some might find the Wolf Man to be a tired character, but this was to be something completely different. He had spent two years prepping the project with Del Toro.
So, now what? Romanek is still attached to A Cold Case, a film that was to go into production years ago with Tom Hanks in the lead, but no word on its current status. One hopes that he can channel his energies into something quick, but a sudden exit of this magnitude is not forgotten in Hollywood.