Y: The Last Man Trilogy?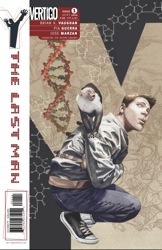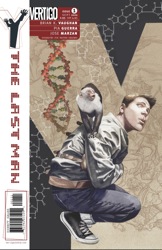 We've been following the development of a movie adaptation of Pia Guerra and Brian K. Vaughan's comic book series Y: The Last Man for a while now. The Vertigo branded comic book series is the best I've ever read. Eagle Eye and Disturbia helmer D.J. Caruso has been attached to the project for a while now, and now tells USA Today that it might become a trilogy of films:
"For me, thematically, the most important thing and the reason I want to do this is … I don't want to say it's the end of the innocence, but it's actually a man-child who has to become a real man now," Caruso says. "I think it's a really simple, beautiful theme, but at the same time, the movie's really pop-culture entertainment."
While the original plan was to squeeze the entire series into one movie, Caruso says the film will cover the first 14 issues of the comics. He adds that this opens the door for a trilogy.
People have always told me that they envisioned Y: The Last Man to be a extended television miniseries. I've always believed that the film had major big screen appeal, especially with the influx of post apocalyptic storylines. But the idea that Caruso is planning a trilogy has me ecstatic. There are just so many cool storylines explored in the 60-issue series. And while the first 14-issues are some of the best, I've enjoyed how some of the themes have developed in later issues.
Caruso also confirmed that he has had "preliminary discussions" with Shia LaBeouf to play Yorick Brown. But Shia has not yet officially signed on for the film. Anyone who has read the series can see that Shia would make the perfect Yorick.
Y: The Last Man follows Yorick Brown, a young amateur escape artist, and his Capuchin monkey, Ampersand, the last two men on Earth. Something (speculated to be a plague) simultaneously kills every mammal possessing a Y chromosome – including embryos, fertilized eggs, and even sperm. Society is plunged into chaos as infrastructures collapse and the surviving women everywhere try to cope with the loss of the men. Yorick goes on a mission to find his girlfriend Beth, who was on vacation in Australia.