Harvey Weinstein Already Wants To Make Rambo V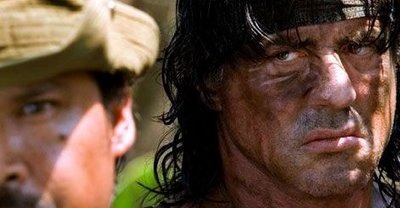 Like two puppies in love, Harvey Weinstein and Nikki Finke had their requisite Sunday chat today, with Weinstein declaring that he's quite pumped up about Rambo's combined domestic and international box office potential, while Finke's sentiments are, adorably, the exact opposite. Serving as executive producer on the fourth Rambo film, which opened in second place this weekend, grossing $18.2 million, Weinstein also said that he's hungry for a sequel, and this time he wants Rambo to come back to America.
"I like the idea of an older guy kicking ass. Maybe it's because I'm older, too," added Weinstein.
Sylvester Stallone has stated many times that, while Rocky Balboa's days on film are up, he'd love to bring John Rambo back. Recently, we reported that Stallone emphasized adding "another element of the surreal [to a Rambo V] that would actually take the audience into a slightly different genre."
Weinstein said he expects Rambo to do $50 million domestically, with $100-150 million on top of that internationally, where Stallone is a bigger draw. Both the speculated sci-fi or superhero slant and a return to the states sound like good moves, creative and business-wise, for the franchise and the Rambo character to me. You?