Transformers: The Ride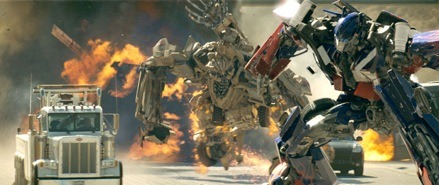 "Mortimer, it sucks being homeless, how will we ever get back on top?" "Well, Randolph, you can start by giving me some of the blanket." "Mortimer! I've got it! Transformers...The Movie...The Ride!" "Randolph, we're back!...No, wait, that's already been announced."
IESB reports with much enthusiasm that Paramount Pictures and Hasbro are planning to bring the Autobots and Decepticons where only Jaws, King Kong, Indiana Jones and millions of pissed off, sunburnt families have gone before! The theme park. Whether that means the rumored Transformers "dark ride," which usually means an indoors adventure ride heavy on the visuals and effects and not a "holy *$%&" rollercoaster, will be located in creaky, old America or Monopoly-monied Dubai, is unknown, but Paramount is said to want the ride up and running sometime after the 2009 release of Transformers 2 but before Transformers 3. So, get your child planning for the next 10 years in order! Actually, you have more like three to four years, but hey, it's Friday.
This mysterious modern marvel of amusement rides is said to share a resemblance to Disneyland's Indiana Jones Adventure ride, complete with "life size transforming" characters and possibly, "an amphibious vehicle that guests will board and quickly find themselves in the middle of a battle between the warring giant robotic space aliens."
So, do you wanna ride the snake Transformer?