Box Office Tracking: Cloverfield #1, Spartans #2, Rambo #3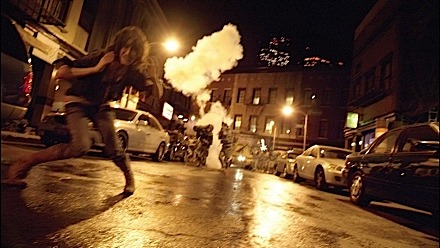 Film industry tracking points to a Cloverfield repeat weekend win. History points to a 50%-55% drop forThe J.J. Abrams-produced monster flick to a likely take in the $21M-$23M range. The battle will be for #2, and I'm calling for an upset.
The Jason Friedberg/Aaron Seltzer spoof movie Meet the Spartans (Fox) has an overall First Choice number of 13% compared to 11% for Rambo (Lionsgate), and the 300 send-up outscores the Stallone sequel with Under 25 Males 32% to 19%. Those young males are the most reliable demo there is. When Under 25 Males say they're interested, they tend to show up. Spartans is likely to finish 2nd for the weekend with $19M-$22M. Meanwhile, Stallone's Rambo return looks like it will probably finish in the $15M-$18M range.
Holdover 27 Dresses will likely finish 4th with a 35%-$40% drop and a $13M-$15M 2nd weekend.
As for the other 2 new wide releases, the Diane Lane techno thriller Untraceable (Sony) is tracking surprisingly well with young females (10% First Choice) and a softer 7% with Females 25 Plus. That will translate to something in the $8M-$10M range. Paramount Vantage's How She Move appears to be a non-starter with a meager 3% First Choice according to the most recent tracker. I'm assuming that urban moviegoers are a bit under-sampled and foresee $4M-$6M for the 3-day.
A number of Oscar nominees are expanding, giving them a chance to pad their totals. Best Picture nominees No Country For Old Men (Miramax) and Michael Clayton (Warner Bros) both expand to over 1,000 screens, and Atonement moves its screen count to 1,400. Also There Will Be Blood (Paramont Vantage) adds almost 500 locations to just under 900 screens.
Here are my weekend predictions for Friday, January 25-Sunday, January 27:
1. Cloverfield – $22.75M
2. Meet the Spartans – $19.5M
3. Rambo – $17M
4. 27 Dresses – $14.75M
5. Untraceable – $9M
6. Juno – $7M
7. How She Move – $5.25M
8. There Will Be Blood $5.1M
9. Mad Money – $5M
10. National Treasure: Book of Secrets – $4.7M
11. Alvin and the Chipmunks – $4.6M
12. First Sunday – $4.5M
*Atonement – $3.9M
*Michael Clayton – $2.25M
*No Country For Old Men – $1.4M