Trailer: Sleepwalking Starring Charlize Theron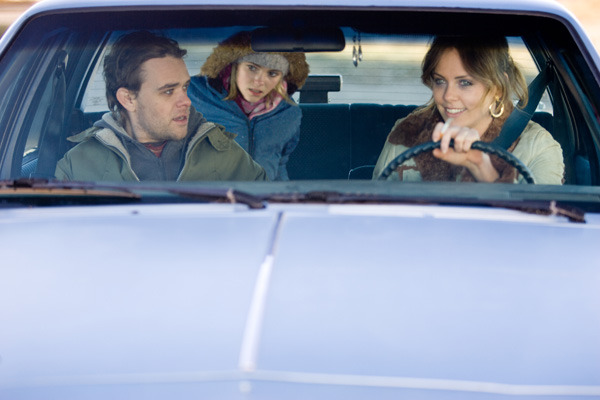 "Joleen is a woman stuck in yesterday." The trailer for Sleepwalking, the new film starring Charlize Theron, Nick Stahl, AnnaSophia Robb, Dennis Hopper and Woody Harrelson, exemplifies a terrible grasp on the power of italics. As for the rest, it's sad to say as the cast is eclectic and has stories for days, but I'm ready to flick this film off to the overpopulated land of promising-indies turned unnecessary-and-forgotten-bummers.
Theron plays a rolling stone mother, Joleen, who abandons her daughter (Robb) to take off on the road with a random guy, right after the two move in with her younger brother (Stahl). So, the younger brother must care for the neglected daughter, and after a confrontation with his and Joleen's crazy father (Hopper), he realizes he needs to be this young girl's dad. Not sure where Woody comes in, but he offers some proto-Woody advice in the trailer. I can go either way when Theron explores a "crushed with eyeliner" role, but nothing shown here clicks, especially the character intros. And the wild horse(s) was a bit much, as well (Thanks Eric). 
Sleepingwalking, directed by the other Bill Maher, opens on March 14, 2008.
[flv:http://media2.slashfilm.com/slashfilm/trailers/sleepwalking.flv 470 350]