Razzie Award Nominees Announced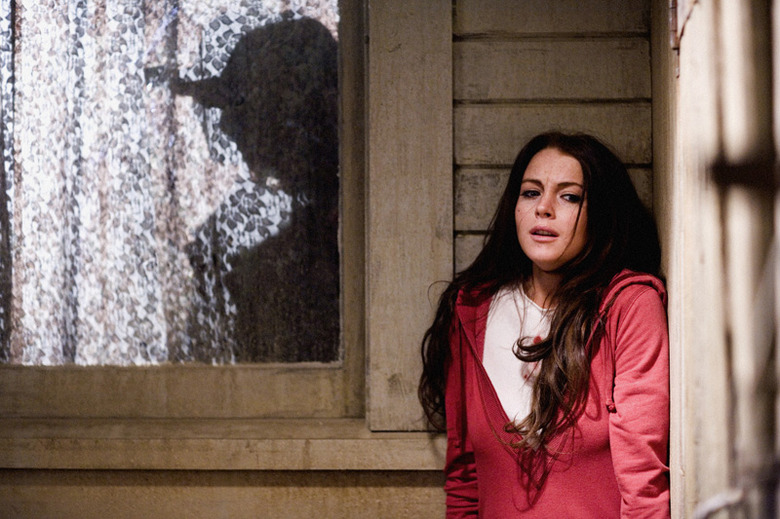 "Please, Oscar! Don't!"
The Academy's famously snide sib, The Razzies, announced its nominations for the worst movies, performances and direction of 2007 today. Leading the lepers is the already cultish Lindsay Lohan stripper-twin-Blue Velvet-for-Proactiv-set thriller I Know Who Killed Me with nine noms, including Worst Picture. And that seals it: I'm finally going to consider watching it stoned one day when I'm 70. Lohan actually scored two Worst Actress noms for playing twins. Cute. But there's still no way it's worse than The Number 23, which was excluded for Worst Picture. A travesty. Winners of the Little Naked Gold Man will be announced on February 23rd. Here are the major noms...where the hell is Who's Your Caddy?
Worst Picture
Bratz – Lionsgate
Daddy Day Camp – Sony/Tri-Star/Revolution
I Know Who Killed Me – Tri-Star
I Now Pronounce You Chuck and Larry – Universal
Norbit – Dreamworks
Worst Actor
Nicolas Cage – Ghost Rider, Next and National Treasure: Book of Secrets
Jim Carrey – The Number 23
Cuba Gooding, Jr. – Daddy Day Camp and Norbit
Eddie Murphy (as Norbit) – Norbit
Adam Sandler – I Now Pronounce You Chuck & Larry
Worst Actress
Jessica Alba- Awake, Fantastic Four: The Rise of the Silver Surfer and Good Luck Chuck
Four No-name Actresses – Bratz
Elisha Cuthbert – Captivity
Diane Keaton – Because I Said So
Lindsay Lohan (as Aubrey) – I Know Who Killed Me
Lindsay Lohan (as Dakota) – I Know Who Killed Me, Too
Worst Director
Dennis Dugan – I Now Pronounce You Chuck & Larry
Roland Joffe – Captivity
Brian Robbins – Norbit
Fred Savage (it's come to this) – Daddy Day Camp
Chris Silverston – I Know Who Killed Me
Source Link: Razzies