Trailer Alert: Indiana Jones And The Kingdom Of The Crystal Skull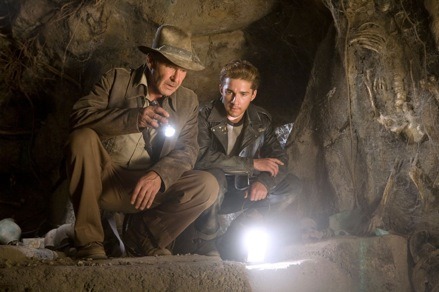 It's hard to measure the gnarlitude I'm feeling this Saturday after Cloverfield, but every forthcoming movie I was looking forward to just got that much brighter. They've got the Tina Fey glow. Puked yet? Okay enough, Chud brings word that the first trailer for this May's Indiana Jones and the Kingdom of the Crystal Skull is skedded to appear on February 14th, Valentine's Day, via the show John Tesh left for his piano for, Entertainment Tonight. In that wild and crazy ET style, they'll be teasing it after they make you endure a couple of commercial breaks and world exclusives that would make Wayne Gale blush.
At 12:01 a.m. on February 15th, the trailer will go live on the movie's official website, though reports have it in theaters on the 14th. And of course, your diligent /Film will have it with the quickness after procuring it in a shady alleyway with a cat mating track, so it's your call.
That reminds me that I need to track down one of the glowing blue crystal skulls used in the making of House II: The Second Story in time for the '80s party I'm throwing with Bill Maher. Any leads?