Sundance Movie Review: The Wackness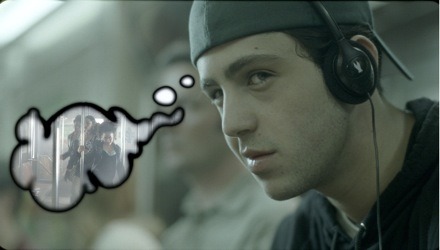 Every year at Sundance I see a film during the first weekend that I absolutely fall in love with. Because it's only the opening weekend, I try not to claim that a film is the best of this year's festival. But usually my emotions win out and I make such a claim in a non-direct kind of way, which may explain this opening paragraph. Because this year The Wackness is that film.
Jonathan Levine's second feature is set in the hot summer of 1994, when gangsta rap was beginning to penetrate into mainstream culture and a young depressed drug-dealer named Luke (Josh Peck in a career making performance) sets off on a journey to get laid before he goes off to college. Problem is that Luke is a combination loser/loner (what I like to call – "Loneser"). His only friend is his oddball psychiatrist Dr. Squires (a Harvey Keitel-looking Ben Kingsley) is suffering from a late-middle age crisis, and takes pot for trade for therapy sessions. Luke falls in love with Squires' step-daughter Stephanie (Juno's sexy supporting star Olivia Thirlby), while Dr. Squires makes out with a hippied-out Mary-Kate Olsen (yuck) in a phone booth.
The Wackness has the polish of a hip music video with the rawness of a gritty documentary. Imagine if Michael Bay shot a dramatic indie film. The Squid and the Whale for the NES generation, filled with Sex, Drugs and Rap music. The film perfectly captures the mood of the early to mid 90's, referencing anything and everything from gameboys to Biggie Smalls, Giuliani's overhaul of New York City to the fantastic 90's compilation soundtrack. Levine takes chances, intercutting fantastical dream and musical sequences with a realistic dramatic story.
The Wackness is such a refreshing take on the coming-of-age story. Jonathan Levine has solidified himself as a solid next gen filmmaker, following in the talents of Paul Thomas Anderson, Darren Aronofsky, and Wes Anderson. See Kingsley like you've never seen him before, and Olivia Thirlby in her first breakout leading role. While this movie might not be as easily accessible as Little Miss Sunshine or Juno, the film will strike a strong connection with it's targeted demographic (which I just so happen to fit into). The Wackness is the film to see at this year's Sundance, and is already an early contender for this year's top 10.
/Film Rating: 9 out of 10